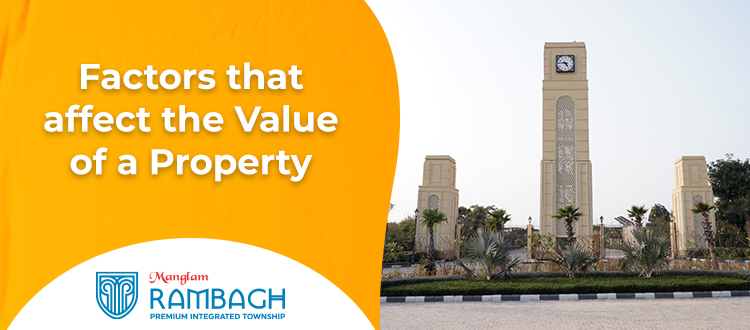 Factors that affect the Value of a Property
Make sure you're getting the greatest possible price and return on your investment when you
purchase the property. The price of a piece of real estate like property for sale in
Neemrana depends on several elements that must be taken into account while determining
its true market worth. Both the developer's asking price and the buyer's final offer will be
affected by these variables. The following are the contributing elements.
Maintenance
The curb appeal of a house is a major factor in determining its value. A customer's initial
impression is really important. Well-maintained properties, have had necessary repairs
made, and have been given a new coat of paint before being put on the market will likely sell
quickly. You can tell a lot about the property's age, upkeep, and style by the way it looks.
Properties that aren't maintained well are considered terrible bets by investors. In addition to
the asking price, you'd have to pay the cost of repairs and renovations to make the property
habitable.
The Value of a Property Increases
Anyone thinking about buying plots for sale in Neemrana should research the local real
estate market. There is still the concern about whether or not the home's worth will rise over
time, even if you are buying it as a primary residence. Doing so will protect and boost the
value of your investment. Insight into this is afforded by the historical trajectory of prices.
Alternatively, you might look for areas and projects that have received significant investment
from developers. Researching nearby construction plans is another option. The real estate
market will be buoyed by public and private sector infrastructure developments.
Amenities
People are prepared to spend a higher price for a property that has high-end conveniences.
These conveniences improve quality of life and pave the way for a more balanced
psychological, social, and physiological existence. All of your loved ones can benefit from
these features. Homeowners appreciate the peace of mind provided by amenities like
security guards, surveillance cameras, and other such systems. Rather than paying a large
initiation fee or monthly dues to a private club, you may enjoy these conveniences for a low,
monthly maintenance charge. These kinds of homes are popular among both tenants and
purchasers.
Neighbourhood
The property's neighbourhood should also be considered. Properties in established business
and residential areas tend to increase in value more quickly than those in developing areas.
The neighbourhood has to meet several criteria, including being safe for families with young
children, being clean, having convenient access to public transportation, being crime-free,
and having enough separation between neighbouring properties.
Conformity with Vastu
The property has to be Vastu-compliant, which means it lets in enough light and air. The
township in Rambagh is built in such a way since they aim to please a clientele that places a
premium on this amenity. Factors in choosing plots include the unit's orientation, the door's
opening side, and layout.
The plots for sale in Neemrana are the best option for investment as the township has
been made in such a way that it is filled with all the amenities and security of a gated
community.