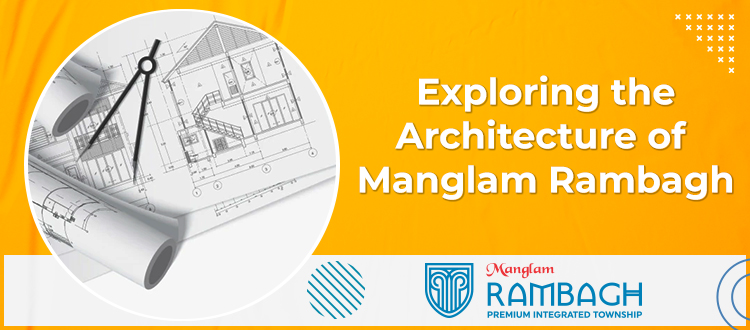 Exploring the architecture of Manglam Rambagh
Interested in living in an area with grand and splendid architecture and enjoying residing in low rise and fewer density areas? Property for sale in Neemrana is the place that can provide you with such a space. 
Featuring 80 acres of the township on the Main Delhi-Jaipur Highway, Manglam Rambagh is easily accessible from the main highway through the service lane. It has many artery roads connecting ends with lush greenery. The entrance plaza is built in European style, which renders it a sight of a grand and splendid entry. The pillars stand erect with many small spaces in between which gives the residents a feel of living within a gated community. It is highly secured. 
The township comprises strategically planned and developed multiple residential and commercial property in Neemrana. They are designed to resonate with the lifestyle of the residents along with offering them multiple benefits such as:
1. Low rise and less density: 
Low-density housing refers to less crowding and more privacy. It also indicates fewer vehicles which further signifies less pollution and purer air to breathe, more open spaces, and an environment that is much cleaner and healthier. The share of open spaces per resident is much higher.
2. Modern Amenities: 
Today, people are becoming more and more health-conscious as the days pass by. They happen to fix a specific time of the day, only for exercise purposes. If you like to exercise regularly, staying in Neemrana with gym facilities is the best option for you. Plots for sale in Neemrana have their community hall available for the residents to enjoy a beneficial community living.
3. Flexible Planning: 
Architecture has the capability to be as flexible as a naturally built environment and Manglam Rambagh's architecture comprises flexibility and design that were foreseen in the planning stage itself. Feasibility, research, later projections, and long-term plans were pre-thought and incorporated into the design itself, which allows keeping the built environment relevant and useful until eternity. Moreover, it also reduces the constant need for redesigning. This gives the residents the benefit of moving around easily and enjoying the flexible design of the township.
4. Secured Premise: The gate is built in line with the European Architecture which is highly secured. Modern Technology like the installation of CCTV cameras will be used to ensure that residents enjoy a safe stay at their homes. The grandeur vibe is satisfying to a man's necessity of living in a luxurious environment.