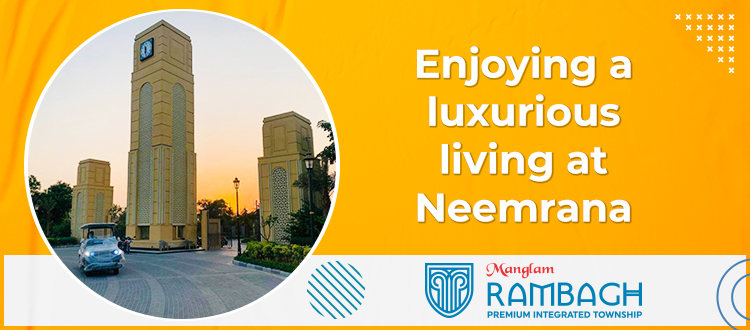 Enjoying a luxurious living at Neemrana
Dreaming of a house, away from the bustle of the city? Then, you have got a great option. With an edge over the rest and located on the main Delhi Jaipur Highway, Manglam Rambagh is a luxury landmark where you can craft your abode as you have always dreamt of and live amidst the conveniences of everyday life. It has a combination of advantages offered in residential and commercial living.
Being closely located to the establishments which render the provision of necessary products and services, and has availability of almost all kinds of means of transportation, which allows for great connectivity. At Manglam Rambagh, you can choose to build your home here and cherish the moments, enjoying a luxurious homestay! Here are some of the attributes which add to the component of Luxury living in a property in Neemrana:
60-40-30 Feet roads:
Almost designed as a township which has a gated community and the entrance is based on European Architecture, the roads are so wide, that it gives a sense of grandeur living to its residents. Not only the roads but also the architecture landscaped inside, provides for an optimistic vibe for urban living, even after being away from the city.
Greenery all around:
The township comprising plots in Neemrana is built in such a way to provide its residents with the feel of enjoying a living amidst the greens. To the residents, it may even mean developing and enhancing the spiritual orientation they possess, which may even prove to be a great healer for mental health. The aura of the township is embellished in such a way that the residents can be there with their inner self and work towards growing it more and enjoy their homestay with the pure green environment around.
Clubhouse with a lot of facilities:
The clubhouse of Manglam Rambagh offers multiple facilities. This mainly ranges from a mini theatre to a modern gymnasium which is a place provided to residents especially the youth to take care of their physical fitness. Additionally, the plots for sale in Neemrana also offer a fitness studio for the buyers. Kids find a special place that is a kids' play area to develop themselves in all aspects ranging from mental to physical growth. For every kind of individual, whether aged or young, the evenings and the leisurely time can be spent productively through activities organized in the clubhouse.
Ample Parking area:
Owning a car is a dream of many. However, in modern cities, areas for parking are limited but here at Manglam Rambagh, the property in Neemrana has ample and more space exclusively meant for parking.
So, don't hesitate. Build your dream home at Neemrana and enjoy a luxurious life stay!