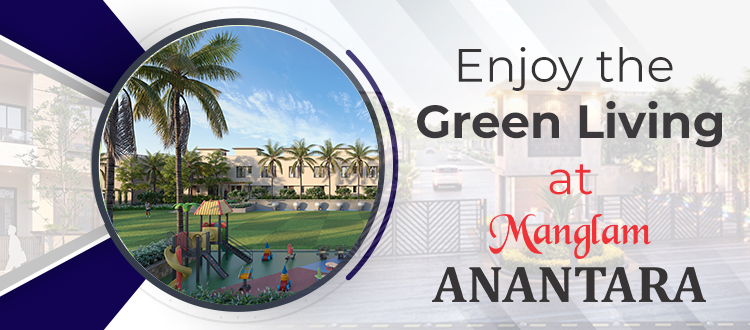 Enjoy the Green Living at Manglam Anantara!
Are you dreaming of owning a villa, where you can start your morning by witnessing and feeling a vibrant, lush green surroundings around you?
If so, Manglam Anantara is the place for you. Located at Main Ajmer Road, it offers luxurious 4 BHK villas in Jaipur which ensures a variety of green energy consumption practices and an atmosphere of enriching indoor plantations. Residents can enjoy an overall environmentally rich and contented stay with a feeling of beauty and bliss overpowering them, as they watch a picturesque sight of gardens from their windows and balconies.
Some of the Green Living features at Manglam Anantara are as follows:
1.5 Acres of Private Garden
Residents can enjoy a lush green view and an atmosphere of clean and pure air, cherish the moments they spend with their families and loved ones, sitting around in the garden, and beautify their inner world by smelling the fragrance of flowers blooming in the garden.
Multiple Landscape Garden
Developing an aesthetic sense by visiting landscape gardens, residents can find it easy to appreciate the presence of beautiful sights and smells which adds a recreational value and ultimately leads to improved quality of life. Further, these lush green gardens act as agents of reducing temperatures during scorching summer heat.
Located away from the hustle and bustle of the city
Located at Main Ajmer road, an area close to Special Economic Zone (SEZ), residents can enjoy a peaceful and relaxing time. The lush green surroundings attributed to large green trees provides for reduced noise due to dense canopying and keeps them away from hustle and bustle of daily chaotic lives.
Furthermore, some of the eco friendly green living features include energy efficient air conditioning (using high rated star ACs), energy efficient lightning (use of LED's), water efficient fixtures and advanced ventilation systems.
Merging luxury stay with an environment friendly design, Manglam Anantara's 4 BHK villas on Ajmer Road render an experience of homely peace, tranquility and serenity in this quick paced, haphazard world.
What do you wait for, then?
Book your luxury villa in Jaipur at Manglam Anantara and enjoy an eco friendly home stay for life!