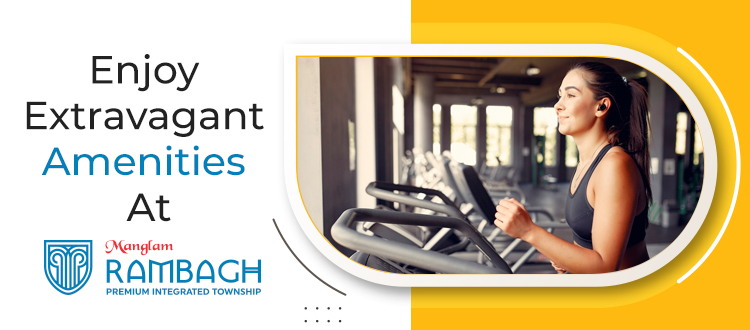 Enjoy Extravagant Amenities At Manglam Rambagh
The edge of living in a luxury township project comes with the excellent amenities one gets to enjoy.
Everyone dreams of living in a home where you can enjoy world-class indulgence and live a life shrouded by the lush greens. Manglam Rambagh, a beautifully integrated township in Neemrana spread over 80 acres on the main Jaipur-Delhi Highway is a perfect spot to build your dream home. This luxury township on Jaipur-Delhi Highway offers residential and commercial plots in Neemrana that are provided with luxury amenities that add extra comfort and opulence to the lives of residents.
Let's take a look at some of the luxury amenities at Manglam Rambagh.
Comprehensive Fitness Amenities:
Fitness has become an eternal part of the lives of most individuals. Everyone today prefers having fitness centers and gyms near their homes. Luxury township property in Neemrana offers well-equipped gymnasiums and fitness studios in the township property for the residents.
Landscaped Gardens:
Greenery has become one of the most extravagant luxuries in modern times. Everyone wishes to own a home in a lush green environment. The luxury township in Neemrana is spread over 80 acres of landscaped gardens. Ample greenery around the home uplift your mood and the gardens can be an excellent place for you to do your morning walks and enjoy yourself with friends and family.
Children's Play Area:
One of the main concerns for parents before buying a property is whether their children would get enough space for their recreation. Amenities like the games room and kids play area allow children to engage in recreational activities with utmost safety and security at Manglam Rambagh. The luxury township in Neemrana is committed to providing all conveniences for children as well as adults.
Swimming Pool and Steam Sauna
One of the most important amenities of a luxurious property is the swimming pool. After an exhausting day, nothing is better than having a relaxing swim in the swimming pool, especially when you don't have to go far for it. The property for sale in Neemrana offers a lavish swimming pool and steam sauna for residents to dive into extravagance.
Some of the other lavish amenities offered by the Manglam Rambagh are the function halls to celebrate small events and gatherings. Also, the lavish property in Neemrana offers mini theaters and other lavish amenities that add luxury to the lifestyle and raises the bar of the lives of residents.