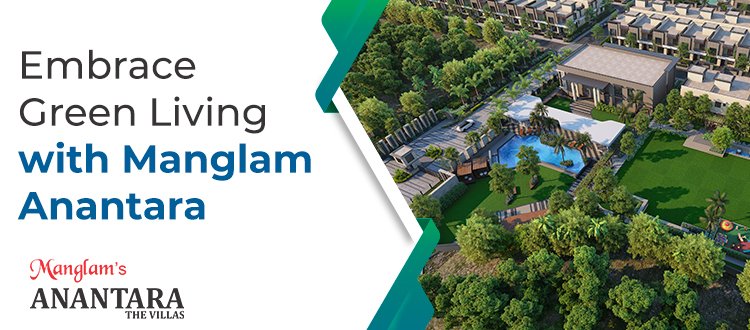 Embrace Green Living with Manglam Anantara
Jaipur is emerging as the prime real-estate hub in Northern India. People from all the nearby states and also all over India are moving to Jaipur in search of better living standards. This led to an increase in demand for residential projects in the pink city. One of the most prestigious and leading real-estate builders and developers, the Manglam Group took up the responsibility to deliver quality residential projects to the people. Manglam Anantara is a beautifully developed project on Ajmer Road that offers 4 BHK villas in Jaipur. The project aspires to offer a grand living experience to the residents while offering the pleasantness of lush greens through uninterrupted interaction with nature.
Here is why you should buy a villa in Jaipur in Manglam Anantara, eco-friendly homes that provide green living experiences to the residents.
Ensconced Amidst Nature:
The 4 BHK villas on Ajmer Road are surrounded by 1.5 acres of a lush green private garden that allows residents to indulge in nature and is a real treat to the eyes and senses.
Flawless Facilities:
The amenities at Manglam Anantara are thoughtfully developed to impact the environment to the least and room hormonally with nature. The state-of-the-art amenities are surrounded by lush greens and are the best stretches for residents to relish to the fullest.
The Villament Life:
The villas on Ajmer Road are not only the most finely designed living spaces but are also being developed to offer spacious and sumptuous residency to residents. They offer spacious built-up areas along with providing quality life to the residents.
Get Outdoorsy:
The large stretches of lush gardens at Manglam Anantara give you ample reasons to get out and enjoy some quality time outdoors. They are beautifully designed to encourage you to step out to spend some time in quality air.
Get Active, Stay Fit:
The beautiful project offers ample amenities to encourage residents to be more active and physically fit. The 4 BHK villas in Jaipur are equipped with amenities like a swimming pool, gymnasium, kids' play area, indoor sports facilities, etc. These amenities not just help you stay fit, but also meet your neighbours and form good social circles.
To be truthful, one place that can truly satisfy your quest for a beautiful home will only end at Manglam Anantara. They offer beautiful 4 BHK villas on Ajmer Road that can easily fill your life with opulence and offer you a million reasons to smile with your loved ones.