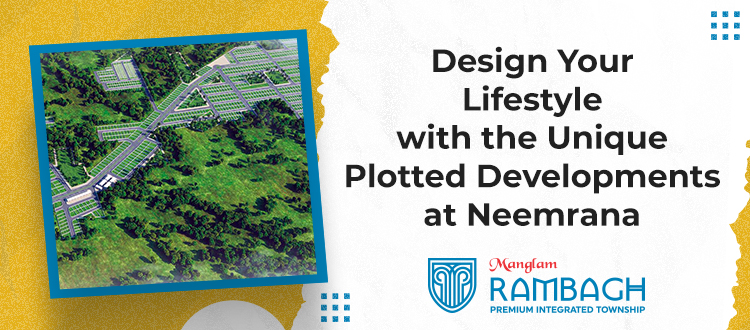 Design Your Lifestyle with the Unique Plotted Developments at Neemrana
Plotted Developments especially in Rajasthan are receiving major attention from property buyers. A large number of investors are picking lands in plotted developments as their choice of investment. Plotted developments are basically projected with plots for sale in Neemrana for the development and construction of houses, villas, and other housing options.
In recent years, plotted developments within a gated community like Manglam Rambagh with excellent connectivity have significantly grown. Manglam Ranbagh offers residential and commercial plots in Neemrana that allows residents to develop their dream home as per their convenience and taste.
A New Beginning!
Manglam Rambagh is a beautifully planned plotted development in the rapidly developing industrial town of Neemrana. Not only does the project place you in a serene location but also allows you to start the new phase of your life with positivity and a renewed sense of being.
A Gateway To Heaven
Not only does the plotted development place you in a zenith of comforts, but the plots for sale in Neemrana are also perfectly fostering a quality living experience for the residents allowing them to indulge in activities that render quality along with fulfillment.
An Environment To Fall For
The fact is the plots in Neemrana are surrounded by lush green spaces with lavish surroundings rendering serene and soothing living spaces along with giving residents spaces to interact with nature. One gets to enjoy uninterrupted views and bask in the delight of nature. A life at Manglam Rambagh helps you live a calmer and healthier life.
Superior Infrastructure
Manglam Rambagh takes care of every need of residents and provides prompt services. Manglam Rambagh is also beautifully developed and offers a high-end infrastructure that includes proper basic facilities along with amenities that aid a lifestyle investment for the residents allowing them to enjoy their life to the max.
The Unlimited Freedom
The property for sale in Neemrana has gained massive attention and traction from the property buyers. One major reason behind picking plotted development is the fact that the buyers gain the freedom to construct their home as per their wishes along with the advanced safety of the gated community.
Manglam Rambagh is a beautiful plotted development that offers plots for sale in Neemrana perfect for you to build your dream home. These plots are among the number one choice among homebuyers as they offer immense investment returns and foster a high-end lifestyle.