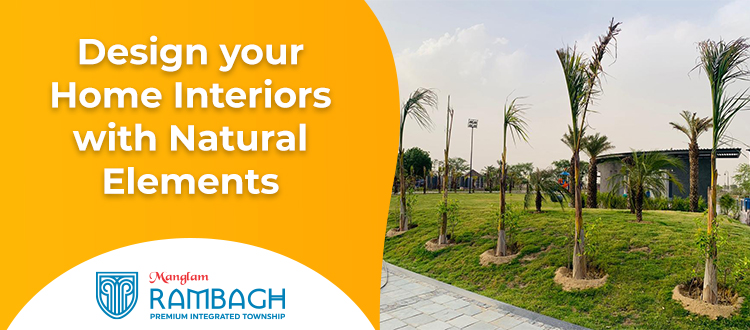 Design your Home Interiors with Natural Elements
Today in the hustle and bustle of the city, bring relaxation & fresh vibes into your house by decorating it with natural elements. This decoration can only be achieved if you build a home on a plot for sale in Neemrana. There are many elements and ways in which you can try to give your interior elegance and finesse look. Go unique and give your room a fusion of modern and organic elements to represent your style through it.
Let the plant colour your life
Whenever anybody thinks of engaging with nature the first thing which comes to their mind is planting trees and why not? It does not just give a dash of colour to your house but also provides you with fresh purified air. You can put an indoor plant anywhere in your house built on the property for sale in Neemrana, balcony, bedroom, living room wherever you wish to. You can opt for many indoor plants which need very little care and their lifespan is also long. There are varieties of plants you can choose such as flower plants, decorative plants, Climbers and creepers, etc for indoor and outdoor decoration.
Wood Decoration
You can be very versatile by choosing wood to décor your property in Neemrana, it is suitable from floor to ceiling. You can bring wood into your interior by wood flooring, furniture, wall decor, etc, which comes with a variety of finishes, species, and applications to give your house a warm and cozy feel. It is surely a great way to bring a natural charisma throughout your space.
Use natural sunlight & Moonbeams
The natural decoration of your house is incomplete without natural lighting so don't forget to open your property in Neemrana for the lights to come into your house. This is one of the cheapest and most beautiful natural elements which can give life to any room, and makes humans feel healthy and inspired. Open your glass windows and replace your regular thick curtain with bamboo blinds, linen shades, and cotton curtains to allow the sunlight inside.
Seashells
Seashells are the wonder of the sea, which can make an interesting display in your house. It is the easiest way of welcoming nature; you just need to keep a bowl of seashells on the top of a dining table or on the counter table or any place you desire.
Stones & pebbles
You can bring beautiful pebbles and rocks into your indoor décor in a variety of ways. The easiest way is to fill the empty spaces with rocks while giving grace to them. The rock is a symbol of strength and sturdiness. You can even go for small colored pebbles to make the design even more interesting. You can decorate the pebbles with the plant pots or in the vase or just fill them in a decorative bowl or Jar to show without much effort.
A natural element aura in your interior will make your rooms feel brighter, warmer and more welcoming. Nature is a thing that, even if you use just one element, can make a huge difference to your living. All of these interior choices can be executed if you purchase a plot for sale in Neemrana and build a house from scratch.