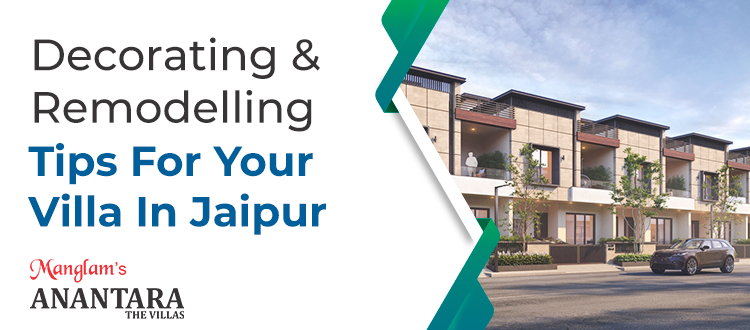 Decorating and Remodelling Tips For Your Villa In Jaipur
When the matter comes regarding your dream home, you want everything to be perfect.
From wall colours to interiors, every single detail needs to resonate with your likes and wishes. However, as exciting as this task may seem, it sometimes can even be daunting. And why is that? As you buy a beautiful 4 BHK villa on Ajmer Road, your mind is filled with enormous ideas and visions which can easily confuse you when the time comes for the execution of those ideas. Today, designing your dream home is a challenging task. However, we are here to help you with that. A few steps to start with to decorate your villa in Jaipur with the trendiest yet most conventional styles are mentioned below.
Define Your Style
Once you are ready to decorate your 4 BHK luxury villa on Ajmer Road, you are needed to determine what style suits you the best. Ask yourself what colour palette you like, what form of style aligns with your personality, and how you will like your home to feel. After deciding this, you will know what style you wish for your home.
Figure Out Your Likes And Dislikes
The next step is to determine what you would like and dislike in your home. Form a clear sense of what you like and what you don't. This will narrow down choices and help you make better selections for your dream abode's interior.
Plan Your Interior According To The Space
One important factor to consider while planning the interior of your villa on Ajmer Road is the available space. It is important to have a clear idea of the measurements of the space to make better judgments for the placements of furniture and other artifacts. Not only does it improvise the look of the space but also makes your home look uncluttered and non congested.
Sample The Paint You Like
Paint jobs immensely affect the look and feel of your home. Selecting the right colour palette for your home will tie the whole living space together. Also, make sure that while selecting the colour palette you treat the whole of your home living space as one. Also, test the room wall in natural light and nighttime to select the best colour palette for the space.
Mix High and Low Price Points
Don't be afraid to go for less-known artists and designers. Pedigree does not always guarantee the best. Pick pieces and art that best suit your interests, comforts, and visions.
Start From The Ground Level
One thing that can confuse you the most is where to start with. Firstly, you need to start with the flooring of the space like picking the rugs, tiles, carpet, etc. This will give you a clear idea of the type of furniture and decor that will go best with the space.
These were a few ways you can start with designing your 4 BHK villa in Jaipur. It is always best to take your time while designing your dream home. Also, if you are in search of your dream home in Jaipur, Manglam Anantara offers beautiful villas in Jaipur that will be perfect for you and your family.