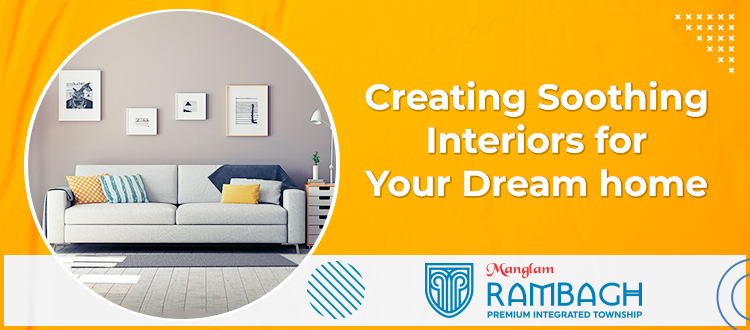 Creating Soothing Interiors for your Dream Home
Do you wish to build your dream home in one of the most beautiful locations with dreamy vistas to endure?
Manglam Rambagh is a wisely designed integrated township that offers property in Neemrana, which is an upcoming industrial area on Jaipur- Delhi Highway. If you plan to buy one of the plots in Neemrana and wish to build a home of your choice with excellent and heart-throbbing interiors, then the following points can be considered:
Give your sofas space: For a comfortable living space, you should think about aspects like practicalities, functionality, and aesthetics. The space planning is to be done in a way to allows convenient movement and utilizing the space to the max.
Choosing the right colors: You can study and analyze color theory to decide on various shades of colors to paint the interior of your home. A striped wall in neutral colors adds tons of style but still keeps the room looking relaxed. Neutral wall color with a pastel ceiling is a sneaky way to add color without losing the soothing vibe of the space. One of the easiest ways to choose interior paint colors is to start with a print fabric. Throws, pillows, bedding, and even table linens can provide you with paint color ideas.
Choosing the appropriate kind of artwork: For the living room, the residents can choose beautiful artworks like landscape paintings or abstract paintings which can prove to be soothing and pleasurable to the eyes of home residents. For the dining space, high-gloss pieces, glass-covered prints, and coated canvas for the dining to let the dimmed light bounce around creatively. If you buy a property for sale in Neemrana, you have numerous opportunities to build a home as per your wishes, dreams, and fantasies.
Choosing the right kind of Furniture: It is important to select a theme for designing your home. What is the design theme for your dream home? Are you going for a classic style or do you prefer something modern and sophisticated? Do you want lots of decorative designs or do you enjoy the simple, subtle styles? You can execute the applied colors and tones you want in your home. Picking the right furniture for your dream home is the key to adding style as well as a vibe to your home built on plots for sale in Neemrana. Also, always prefer picking the best quality furniture for your home.
Property for sale in Neemrana is a wise investment today because of its strategic location and the fact that you can build your dream home with the choicest interiors.