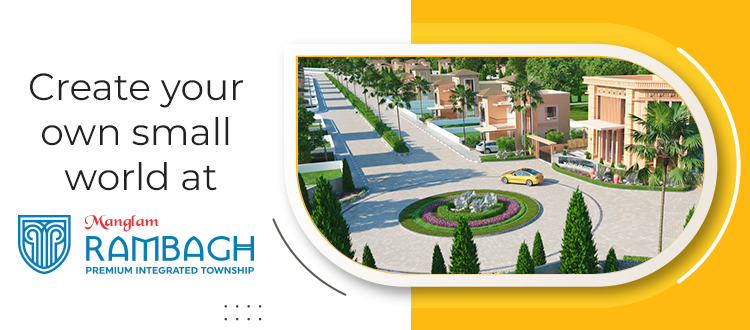 CREATE YOUR OWN SMALL WORLD AT MANGLAM RAMBAGH
Four walls and a roof is a great privilege for many.
And owning one such home where you can create a small world of your own with your family is no less than a blessing.
Everyone wants to build a home for themselves and for their family where they can spend some quality moments and share love and laughter. Home is one of the most important factors of one's life and happiness. It greatly affects their livelihood.
Finding a plot for building your dream home is not an easy task. It requires time and a lot of effort. Manglam Rambagh, a luxury township in Neemrana offers you multiple options in residential plots to choose from to build a beautiful small world for you and your family.
Your small world: Our conveniences
Waking up in your dream home, surrounded by positivity and love is a beautiful feeling. The space where you live needs to have all conveniences that add comfort to your lifestyle.
Your small world deserves all the worldly facilities to ease up your everyday living and add luxury to your lifestyle. Manglam Rambagh offers high-end amenities like a clubhouse, function area, modern gymnasium, and mini theater to upgrade your lifestyle.
Steps to create your small world
Define the location for your dream home:
It seems like a simple task but it isn't. It takes a lot of time and effort to decide over the perfect land for your perfect home. You should pick a place where you would love to live and the surroundings and environment should match your taste.
Picking a builder:
From buying a plot to building a beautiful home over it is a long plan and also full of hassle. A good builder eases up this process as they have an eye for planning and reduce your stress of keeping details. Pick the right builder for constructing your dream home.
Selecting the right construction materials:
Selecting the right construction material is a crucial step and optimizes the cost of construction by 10%. The arrangement of water and electricity at the construction site is also a very important duty.
Moving in into your dream home:
After the completion of construction, formal documentation, and arrangements, the house becomes ready to be a home to you. Furnishing and creating the ambiance inside the home of your choice is the final step towards your dream home.
These were the important steps to creating a beautiful small world of your own.
Manglam Rambagh offers plots in Neemrana where you can build your beautiful dream home from scratch according to your taste and live a life amongst lush green surroundings and enjoy the luxuries provided.
Manglam Rambagh is a high-end property in Neemrana that offers you possibilities to have a luxurious life in your dream home and create a small world of your own where love and laughter thrive.