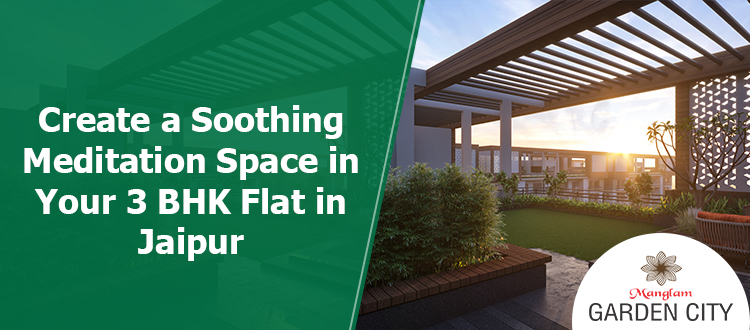 Create a Soothing Meditation Space in Your 3 BHK Flat in Jaipur
Be it regular physical exercise or meditation, our body needs it
everyday for a good functioning of our body as well as mind.
Meditation has a great power to bring great changes to one's life.
Thus, for including meditation in your routine, you can try creating a
different and unique space for meditation in your 3 BHK in Jaipur.
A distinct space for meditation helps you be more disciplined and
easily meditate daily by leaving all your worries aside.
Manglam Garden City is one of the finely built apartment projects that
offers 3 BHK apartments in Mansarovar Jaipur.
Here is how you can create a soothing space for your meditation in
your apartment:
1. Soothing Tones For the Walls: The first thing you need to fix is
the colour of the walls. The vibe of the room greatly depends on
the colour of the walls. Thus, pick light soothing colours for the
walls. This will set a more peaceful and soothing ambiance of the
room.
2. Minimalism For The Best: The best way to make a peaceful
meditative space is to make it clutter free. Remove anything that
does not serve purpose and hinders with the calmness of the
space. It's advisable to remove anything that brings visual
stress.
3. Make Way For Air: The best space for meditation is a room with
fresh air. A closed space with no inlet for fresh air is not
advisable for meditation. Pick a room with more windows as it
can make you feel instantly rejuvenated as you enter the room.
4. Make Space For Some Plants: It is a well known fact that the
best space for meditation is near nature. No one has enough time
to go to a park or garden for meditation. So, why not bring
nature to your home. Not only does plants make your indoors
beautiful but also breaks the monotony of the space.
5. Take Note of Your Seating: An ideal meditation space is
incomplete with a good yoga mat. Invest in a good quality yoga
mat or a low height sofa. 3 BHK in Jaipur is a perfect space for
you to give shape to your meditation space.
6. Don't Miss Out On Scents: Scented candles and essential oils
sets an aura of the space. Pick a scent that soothes your mind
and allures you. They have a calming effect on the mind and help
you feel distressed.
7. Calming Playlist: Along with making certain changes to physical
elements of the room, also give some thought to the background
music. Make a playlist of some soothing and calming music that
help you concentrate better.
Creating a soothing space is the best way to make meditation a
routine. Also, it is not a very difficult process. Also, Manglam Garden
City offers some of the most peaceful and vastu compliant 3 BHK flats
in Jaipur, perfect for your mental peace and clarity.