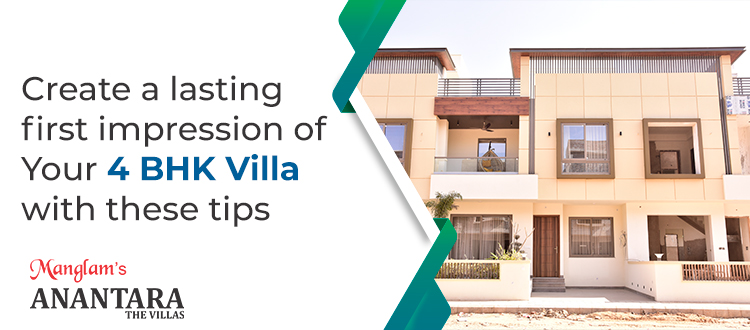 Create a lasting first impression of Your 4 BHK Villa with these tips
'First impression is the last impression' is the most common saying we all must have
heard. This not only applies to one's personality but also to our home as it is the
most explicit reflection of one's choices, thoughts, and living approach. If you are a
proud owner of the 4 BHK luxury villa in Jaipur like Manglam Anantara, then this
blog can surely help you out to create that exclusive impression among your guests
and relatives. Here are few tips you can follow:
Illumination and Lighting
Lighting is considered to be connected to our emotions and sentiments and it can
also directly change our mood instantly. It is an effective medium to express our
feelings. A poorly lit villa can give a wrong impression and can create a dull and
gloomy environment.
Apart from this, there should be abundant light as it is the first stimulus which is
perceived when one enters your luxury villas on Ajmer Road Jaipur. Manglam
Anantara has provision for ample natural sunlight but electronic lighting which are
eco-friendly and readily available can also be incorporated for a better and more
aesthetically appealing look.
Fragrance & Aroma
Have you ever noticed a unique fragrance whenever you enter a particular home?
Every home has its special aroma and this can make a huge difference in the
perception of your dream abode. What can be more good than a lovely and
welcoming aroma that can positively stimulate the right hormones in the brain. This
can help in relieving stress and can be a pleasant mood booster. Natural aromas like
essential oils are the best fit for your dream villa as compared to chemical based
processed fragrances.
Bringing in Nature
Nature adds an input of liveliness in the boring interior spaces. According to various
studies, it has been found that incorporating green plants into your home's interior
settings can help reduce the negative to a great extent. There are numerous plants
that can be used to decorate the inside of your beautiful villa in Jaipur. Apart from
this, nature adds an element of positivity which is an utmost need in the current
times.
Cleanliness is must
Although we all take care of this, somehow a small sight of dust and dirt around can
put your impression down before your guests. Thus, cleanliness should be made a
prerequisite to have a positive impression of your villa. Further, how we keep our
surroundings clean speaks a lot about one's own personality and discipline.
All in all, once you have chosen Manglam Anantara, 4 BHK luxury villas on Ajmer
Road as your dream abode, you have started your journey for luxury living. Just
keep these tips in mind to make an everlasting impression of your beautiful villa.