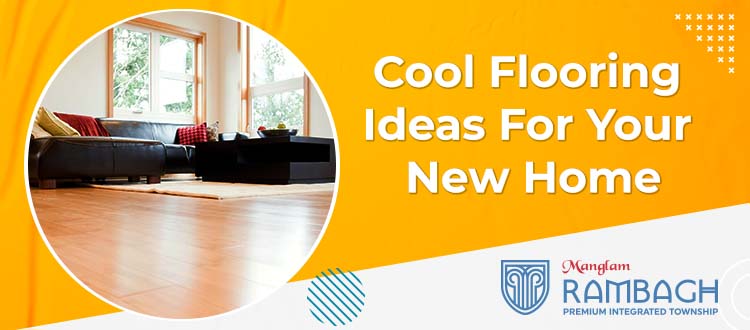 Cool Flooring Ideas For Your New Home
We often focus on the interiors of the home, from furnishing to wall colors, everything is on our checklist.
But, one major aspect of the home building we always tend to forget is the flooring. The flooring of the home plays a major role in changing the appearance and aesthetics of the space. But, however, finding the flooring that fits the budget as well as suits the interior is no piece of cake. If you planning to build a home and are in search of a plot of land, Manglam Rambagh is a perfect place for you. The beautifully integrated township in Neemrana offers plots for sale in Neemrana where you can build the home of your dreams with the type of flooring and interior you want in your dream abode.
Some of the top flooring recommendations for your Indian Home in terms of its aesthetic appeal and practicality are mentioned below.
Marble Flooring
Marble flooring is most sought for Indian homes. Along with timeless beauty, they are long-lasting and are easy to clean. They are also available in different textures and patterns.
Vitrified Tiles
Vitrified tiles are similar to ceramic tiles but they also include clay and silica in the mix. They are easily obtainable and are available in different shades, styles, and patterns. They are a great substitute for marbles and granite.
Vinyl Flooring
Vinyl is a kind of warm flooring and is considered a pet-friendly flooring option. It is also an affordable flooring option and is pretty sound absorbent. For someone who is looking for flooring that replicated hardwood or stone appearance, vinyl is a great flooring option.
Hardwood Flooring
If you are opting for neutral colors in your interior, wooden flooring is a pretty excellent choice for you. They go very well with the neutral shades. However, humidity is a factor that should be taken into consideration.
Indian Patent Stone
Indian Patent Stone is a basic flooring that uses a mixture of concrete and gives a very rustic and rough look. A sealer or wax coating is used to seal the color. Also, this kind of flooring goes easy on the pocket. if someone is looking for an option that is affordable and yet beautiful, IPS can a good option.
Laminate Flooring
Laminates are a form of tiles with a wooden effect. They are best for tropical climates like India and are an excellent alternative to vinyl flooring.
These were some of the chic and pretty flooring options for your new home. Flooring is an integral part of your home and your dream home on plots in Neemrana deserves the best. Buy a property for sale in Neemrana and build your dream home according to your preferences. Manglam Rambagh is an excellent place for you and your family to live a life filled with luxuries and opulence.