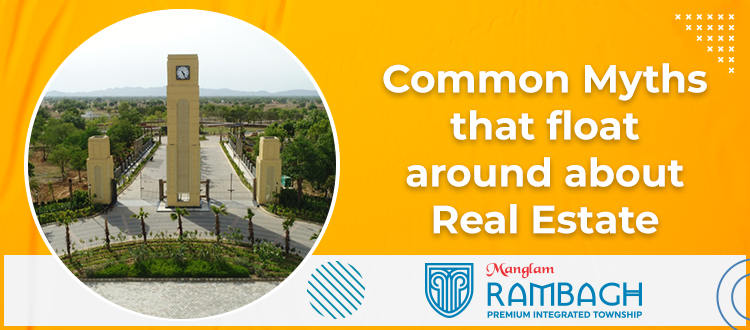 Common Myths that float about Real Estate
Putting money into the real estate market is a substantial investment, making it a major life choice. That's why most individuals in the past would study the market carefully before putting down any money. However, it has been observed that your obtained information is typically eclipsed by misconceptions or exaggerations regarding this industry. Not only will you get bad advice from believing these misconceptions, but you'll also have a harder time hunting because of it.
So that you may be informed while buying a property for sale in Neemrana, we'll bust some prevalent real estate fallacies in this post.
Myth #1: If you want to invest in real estate, you need to have enough money
This is the common belief that prevents individuals from investing in real estate. As a long-term investment, purchasing a home is a wise choice, and only those with secure financial situations can afford to do so. However, this is a long cry from the truth. Those looking to buy a property may do it with the help of mortgage loans from banks and other lending institutions. Most mortgages cover around 80% of the value of the house. This implies that the down payment for a home might be as little as 20% of its worth. The monthly payments on this loan interest only and may be adjusted to fit your budget. Not only that but the PMAY plan has been implemented by the government and is available to people of all economic levels. This plan has made investing in real estate less difficult and more cost-effective.
Myth #2: Real estate investing is fraught with danger
This is another common misunderstanding concerning the property market. All investments do include some degree of danger, it's true. But compared to investments in equities, bonds, mutual funds, gold, etc., real estate investments have a lower degree of risk. If you compare the stock market to the real estate market, you'll quickly conclude that the stock market is much more unstable and subject to wild swings. Most individuals wrongly assume real estate investments such as investing in a commercial property in Neemrana are riskier than other types of investments because of their lack of understanding, but if you perform your due diligence, you'll have nothing to worry about. No matter what happens in the stock market, real estate always guarantees you a roof over your head.
Myth #3: Only Properties in Developed Neighbourhoods Deserve Consideration
When it comes to investing in real estate, this is another common misconception. Only the most desirable, well-connected, and fully developed locations attract serious investors. However, you should be aware that residences in desirable areas are quite costly and have reached their highest prices to date. Accordingly, only a select few can afford to put money into these markets. You should put your money into places where development is expected to be rapid shortly. Property prices are now low in certain places but are expected to increase rapidly. Investments in suburban regions often provide better returns.
If you're looking to purchase a property in Neemrana, it's important to keep some common misunderstandings about real estate in mind. To assist you to make a sound financial investment in plots in Neemrana, you need first to dispel these fallacies.