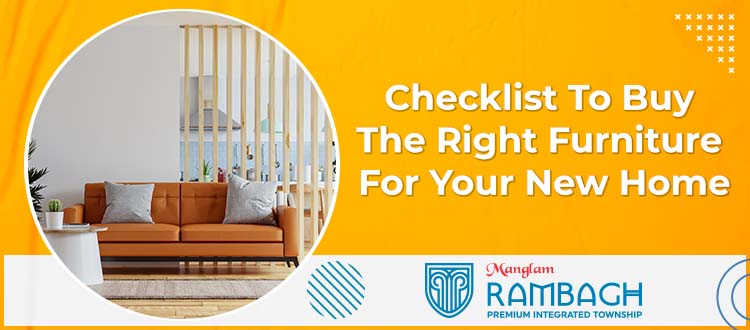 Checklist To Buy The Right Furniture For Your New Home
Furnishings are one of the essential parts of home decor which no one can compromise on. Furniture sustains a variety of our necessities along with serving a decorative purpose. If you are planning to move into a new home, the one thing you must be thinking about a lot is your furniture for the new home. The thought can be daunting along with excitement as you don't want to be stuck with furniture that doesn't serve your purpose and add value to your home. So, it is important to pick the right furniture for your new home on plots for sale in Neemrana. Manglam Rambagh is a beautifully integrated township in Neemrana that offers residential and commercial property in Neemrana that is perfect to build your dream home on or start your own business.
Some of the tips to follow while furniture shopping for your new home is mentioned below.
No Future Plans
Buying furniture for your new home is rather a tough decision. You need to keep in mind various aspects and needs of your home. Before buying anything, make a checklist of all your needs from your furniture so that they can fit all those. Make sure the furniture is durable and is equally relevant.
Pick The Right Fit
Make sure to take the measurements of the room you are planning to buy furniture for beforehand. Buying furniture that doesn't fit in well in your room can be an absolute disaster. Plan and buy furniture that fits well leaving room for movement and future additions.
Buying it all together
Never buy all the furniture together. However, it may seem like a good idea but it is better to leave a possibility to make better additions which you might find in the future. Also, this will help you make your space more unique and appealing.
Leaving the unique stuff behind
While moving into your new home on plots for sale in Neemrana, you might want to carry along some of the old furniture pieces from your old place. Just go for it. This not only will make you feel more connected but also will add uniqueness and value to your space. And you might also save some bucks.
Rushing The Process
Don't just rush into the process of filling your home with furniture. Dig in deep and find different options available, evaluate and compare their price and make better decisions. This will help you buy better and at better prices.
These are a few ways you can pick better furniture for your new home on plots in Neemrana. Buying furniture is not as easy as it may seem. It requires a lot of thinking, research, and effort to pick the best furniture for your dream home. The Manglam Rambagh offers property for sale in Neemrana that are perfect locations to build your dream home enjoying state-of-the-art amenities that add value to your life.