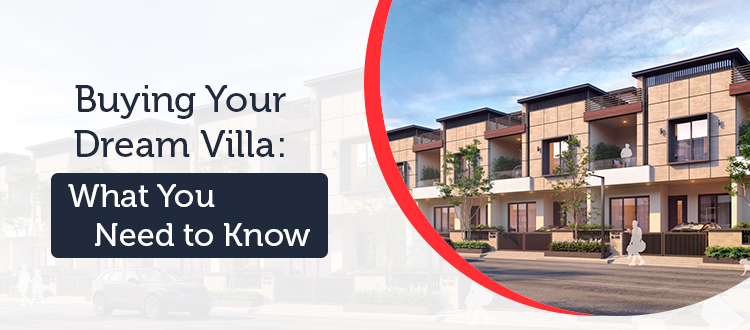 Buying Your Dream Villa: What You Need to Know
Many people are purchasing "Villas" now a days.
Whenever we listen tothe word Villa, a luxury design and element click in our mind. Villa is a one-level structure with a single wall attached toa neighboring villa.
In ancient terms, Villas have pools, gardens, farmlands, with a large area for the suburb. In modern times, it's a small place with some special facilities. When you want to purchase a truly luxurious Villa in Jaipur, you need to consider some points.
Following are some important points to consider before purchasing a luxury villa in Jaipur:
Features and amenities
A luxury villa include diversified features that make everyone stunt. Villas' features list is not limited and contains varieties of features and elements. Higher-end villas include a complete furnishing home with a separate game zone andother features. Some Villas are manufactured in a large area and also contain a swimming pool, terrace garden, study room, etc. The best Villa in Jaipur offers you a park, swimming pool, clubhouse for the society. It is not important to purchase Luxury Villa, but some basic requirements of a Villa are:
Spacious living area
Furnished dining area
State of the art kitchen
Design
: With multiple features and amenities, Manglam Anantara,4 BHK Villa in Jaipur offers you the desired villa lifestyle. The overall design of Villas is similar to each other and includes a similar architecture, landscaping, interior design, furnishing, etc. The features are combinedto make a dream Villa. The Luxury Villas in Jaipur are truly a spectacle to behold and present its unique character with the overall aesthetic of the structure, surrounding, and interior.
Location
: Buyers purchase a property that is convenient and near to the city. Even if all the stated requirements fulfill by the Villas, people still look for a property near to the city of Jaipur. It is important to choose the quality location and reachable from Airport, Station, Hospital, School, College, etc. ManglamAnantara is near Ajmer Road and near to the main city of Jaipur.
Big Size Villa
:Manglam Anantara is dealing in the big size villa that makes your life luxurious. 4 BHK Duplex Villa will not only amaze you but you can organize a small party at home as well. The bigger size of Villa will give you comfort and you can do multiple activities at home. Having more space for self always counts as luxury.
Area
:The are two categories of villas. One category of east& west facing villas have a plot area of 1375 sq.ft., ground floor 1050 sq. ft., first floor 1050 sq.ft., second floor 200 sq. ft. Thus, the total area equals to 2300 sq. ft. The other category of east/ west facing villas have the plot area is plot area of 1740 sq.ft., ground floor 1275 sq. ft., first floor 1250 sq.ft., second floor 200 sq. ft. Thus, the total area equals to 2725 sq. ft.
ManglamAnantara is developing a 1.5 Acre private garden for all families. A separate play area for kids so that no one will be disturbed and kids will play and do some physical activities. Moreover,a temple for senior citizens with a senior citizen corner. The corner will help all seniors to interact with each other and share their thoughts.
These are some basic requirements for people looking in a simple villa or a luxury villa. Villa isn't supposed to match the fairy-tale castle but should include all important amenities for a comfortable lifestyle. The Villa needs to include a well-designed space, modern and modular kitchen with a natural and good vibe. Hence, when you are purchasing the Villa in Jaipur at Manglam Anantara, you will get great features that match your vibe for your dream living.