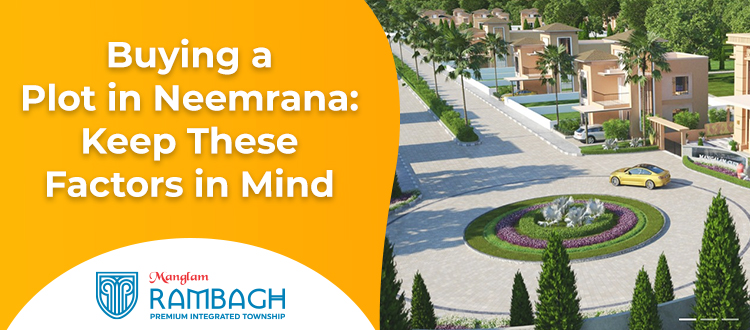 Buying a Plot in Neemrana: Keep These Factors in Mind
Buying a home is a dream for most people, but there's always a dilemma when it comes to choosing between a residential plot and a gated apartment. Taking all factors into consideration, buying a plot is a better investment option with its high resale value. There are certain factors you must keep in mind before buying plots in Neemrana:
Location
This is a really significant reason when you decide to buy a property for sale in Neemrana. First and foremost, it must be easily accessible to the prominent areas of the city. Make sure you do not get lured by cheap deals at faraway locations. Location is a big factor when it comes to getting great returns on your investment too!
Value of the plot
Do not rush and buy a property in haste, even if the deal seems great. It is advised to spend some time researching the value of land and other advantages, before buying it. You can also consult a real estate agent to help you with this task so that you make an informed decision.
Area of the plot
In case you decide to live there, the area/size of the plots in Neemrana is an important factor when it comes to making that decision about your dream home. Do check on the built-up area you need to build that home and also the topography and soil. After all, it is always better to be safe than sorry.
Builder verification
Sometimes, you hear that a piece of land is under litigation or is embroiled in certain issues. This is why it is suggested to cross-verify the seller. You must also verify their past and current projects or even post your queries on online forums. This is what will give you an idea of the builder's credibility!
Title deed verification
It is important to check if the seller has a right over the property. The first step is to see the title deed of the land, which you are going to buy. Make sure you confirm the name of the seller and that the full right to sell the land lies with him and no one else.
Necessary approvals by the local body
Make sure that the residential plot has been approved by the City Development Corporation and the local body. Check for the necessary approval documents and make sure it is verified by a lawyer. If it's a large layout where the builder plans to develop the plot, ensure that the planning permission and building approval has been obtained from the local authorities.
If you are planning to buy plots for sale in Neemrana, the best option available is Manglam Rambagh. Apart from enjoying good connectivity to major areas of Neemrana the nearest option is to visit the Neemrana fort. There is also limited availability of open plots for residential use in the surrounding areas, which ensures the area will not get overcrowded. Greenery, corporate schools, and less traffic have played a significant role in attracting executives to purchase open plots in this suburb of Neemrana.
The location of Manglam's Rambagh property for sale in Neemrana is located In the beautiful suburbs of Neemrana which provides you the opportunity of building your dream house on an open plot among lush green landscapes with a luxurious lifestyle experience.