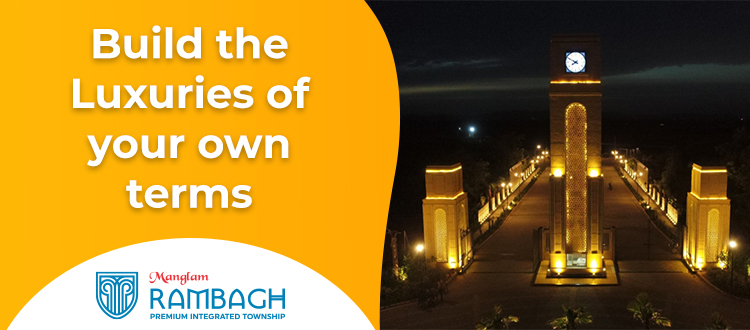 Build the Luxuries of your own terms
Building your home requires a great deal of effort. From hiring an architect to cross-checking the construction quality of raw materials, several factors must be taken into account to make the end result in success. Manglam's Rambagh shares important tips to remember while constructing a house on plots in Neemrana.
Know your budget
Before you start constructing your home at plots for sale in Neemrana, set an estimated budget in your mind. The quality of work to be done will depend on your overall budget. Make sure that your tentative budget is 20 percent more than the estimated cost. Keep some funds for interiors and do not spend everything on construction.
Hire an architect
Hiring a good architect or a structural engineer will help you organize things well. Explain to him your needs and requirements like the number of family members and rooms required on the basis of which he will make a blueprint. "The architect will study the feasibility of the plot and let you know how much of the plot usable (built-up area) is.
Once it is done, the architect will further help you take quotations from contractors. However, it is important to do some online research yourself. Talk to different contractors, explain to them your needs, and take an estimate and compare. Do not go by what the architect says. Check if the contractor has a good reputation and is known for using good quality material. Enquire about his past projects, visit his clients, check their homes, ask them about the time taken for completing the project and get their feedback.
The shape of the plots in Neemrana has a direct impact on the construction cost. While square plots are most viable for construction, complex shapes require more per sq ft area, which increases the cost of construction. Also, if you are constructing a bungalow, it is advisable to check if the plot is Vastu-compliant.
Materials used
Another important thing is to find out the materials used. For instance, a contractor constructs a home on a 200 sq yard plot of area for Rs 25 lakh in six months using substandard construction material while the other contractor completes the same work for Rs 30 lakh in five months using good quality material. In this case, you should always go for the second contractor who is more reliable in terms of using materials, even if it affects your budget a little. Similarly, the cost of building materials (such as bricks, cement, stone, and sand) and labor varies in different cities.
Standard Vs customized home
The concept of standard homes is slowly being replaced by customized and luxury homes. People are now designing specific portions of their homes (removing walls and increasing bathroom space) as per their requirements. However, one should not forget that if we desire to build a customized home at a property for sale in Neemrana, the cost increases instantly despite the same materials being used. Remember, customization should not affect your budget.
Sustainable development
The world is moving towards sustainability, and it has become even more important to use sustainable materials and solar products. As a rule, you have to leave thirty percent of the plot area as open in societies. Similarly, you should try to leave at least twenty percent open space. Use glass windows instead of walls in the living room so that you can have a serene view of the garden and ample sunlight perforation. By using these materials, the carbon footprint is reduced, making your home more sustainable to the environment.
You would definitely enjoy living in a house that has been customized according to your needs. If you are planning to set a residence in Neemrana, this can be made possible with plots for sale in Neemrana by Manglam's Rambagh and make your dream home from scratch.