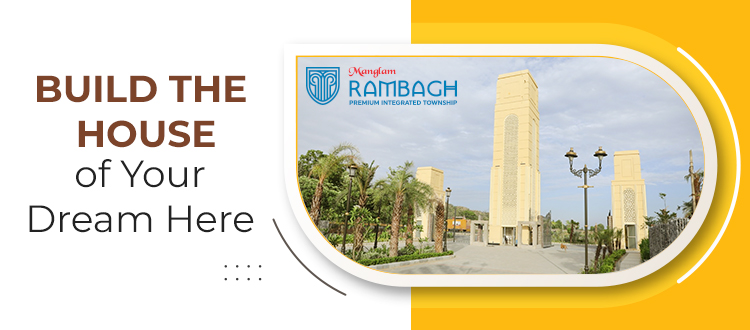 Build the house of your dream here
Everyone wants to own a house amidst greenery, near all conveniences, and a splendid neighborhood.
A home where you live with your loved ones, share precious moments, and have the best times of your lives. The development of the home of your dreams requires the perfect land. A land where you can craft the home of your dreams and a home that offers you pleasure and satisfaction.
Manglam Rambagh is a luxury township in Neemrana that presents to you the opportunity to build your dream home in one of the most exquisite areas  of Rajasthan, Main Jaipur-Delhi Highway.
Why is Manglam Rambagh the perfect place to build your dream home?
The perfect location
We all want a home near all conveniences and facilities. A home where we feel solitude and peace. Manglam Group understands this emotion and brings them to you at Rambagh, located at the prime location of Neemrana, on the main Jaipur-Delhi Highway. The location places you in the zenith of comforts and luxuries.
Celebrates little joys of life
To lead a happy life, we need to celebrate little joys in our life. Celebrating even the smallest of occasions with our family adds value and delight to our ordinary life. Manglam Rambagh has set up a fully functional clubhouse, function lawn, and a mini-theater to host small gatherings and spend leisure time with your family. Thus, the project isl equipped to serve you and your family for a living full of pleasure.
Promotes Healthcare
To have a long and healthy life with our family, we need to have a life full of movements and activity. We need to include daily activities like training, yoga, and games in our daily life. This property in Neemrana is provided with a modern gymnasium, fitness studio, and a swimming pool.
Open green spaces for leisure
A home with ample open space will always be a top priority for many people, and why not? Open spaces with lush greens are the best addition to our beautiful home. It adds beauty as well as calms our souls. Rambagh is stretched over 80 acres of lush green land located on the main Jaipur-Delhi highway. You can buy the most luxurious villa in Neemrana that provides you with abundant greenery that adds value and beauty to your living.
Enjoying childhood
Children are the backbone of our country and the heart of our family? Their development means our development. Their happiness adds to our happiness. Keeping this in mind, Manglam Rambagh has separate kids play areas and games zones for their overall mental and physical growth. This would be a perfect abode for you and your kids.
All these were some of the reasons why you should consider building a home in Manglam Rambagh. We value your lifestyle and work to help you upgrade the same. Be part of the Manglam family and let us serve you the best for your dream home. Buy plots in Neemrana at Manglam Rambagh and build your dream home in one of the most developed areas of Rajasthan.