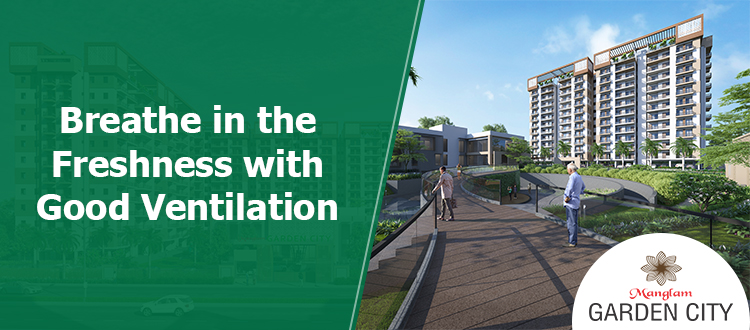 Breathe in the Freshness with Good Ventilation
The new normal, in which many people work and go to school online, has resulted in a widespread trend toward remaining inside. We spend all of our time at home and do most of our things there. The home environment has been shown to significantly affect human health. That's why it's crucial to prioritize proper ventilation in your 3 BHK in Jaipur for optimal health. Most of us don't let the fresh air in via the open windows and doors. A good environment may be maintained by allowing fresh air and light in.
Air circulation is critical for a healthy home environment
Ventilation systems in homes should be properly installed since they are beneficial to residents' health. It's also possible for serious health problems to arise from an enclosed space with few openings to the outside world. Asthma, bronchitis, and other respiratory illnesses might develop as a result. The carbon dioxide we breathe and the smoke we generate in the kitchen both pose risks to the occupants' health. The ventilation in a home has to be checked. Airflow cleans the indoor air of impurities and maintains the flats in Jaipur at a comfortable temperature, while natural light eliminates the presence of germs and odours while also providing welcome illumination and comfort. Improved health is a direct result of well-ventilated living spaces.
The use of cross ventilation helps keep the air moving
Vitality reflects the quality of the air we breathe. Taking in some outside air might do wonders for your mood. A cool breeze is a welcome relief from the heat. It keeps stale air out of the house and maintains a comfortable temperature. Cross ventilation is more effective in homes when windows and doors are strategically placed diagonally or even next to one another. The purpose of cross ventilation is not only to bring in clean air; it is also to expel stale, polluted air. The result is an environmentally healthy setting. There are several options for bringing natural light and fresh air into the 3 BHK apartments in Mansarovar Jaipur and making the most of cross ventilation.
Plants Improve Indoor Air Quality
Reduced ventilation may lead to unhealthy levels of airborne particles, which can cause a host of medical problems. House plants, often known as indoor plants, are a great method to clean the air in your 3 BHK flats in Jaipur Mansarovar Patrakar Colony. These plants not only look nice, but they also do good things for the air quality and ventilation. They are effective in lowering toxin levels. Particularly in enclosed spaces, they can take in larger amounts of these dangerous chemicals. Toxins released into the air by common home products including glue, disinfectants, ovens, and cleaning solutions may be filtered out by some plants. It is a proven truth that having houseplants in the home helps to lessen the effects of indoor air pollution and makes the home more airy and open.
Excellent Air Quality and Health in Garden City
A well-functioning ventilation system in the home is crucial to one's health. Moisture levels within the 3 BHK in Jaipur may be managed with proper ventilation. Because of the constant circulation of air, there is never any condensation or rotting of belongings within the home. Pollutants like chemical gases and bacteria would not be a problem inside the home if there was enough ventilation. Pollutants, germs, dampness, and odour may all be eliminated with proper ventilation. When the air can circulate freely, all contaminants are removed. Moreover, a well-ventilated space will be cooler to the touch.
The designers of Manglam's Garden City have spared no effort to ensure that the 3 BHK apartments in Mansarovar Jaipur are not only big and high-end, but also bright and airy. Invest in a Garden City condo or flat and give yourself the gift of good health thanks to the abundant natural light and air circulation.