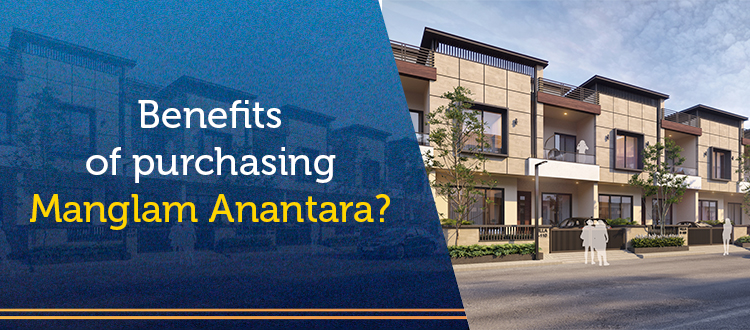 Benefits of purchasing Manglam Anantara
A luxury villa gives you a luxurious lifestyle.
Many metro cities in India are offering luxury villas. Manglam Anantara is a luxury property in Jaipur with unlimited modern amenities.
The benefits of purchasing Anantara villas are:
Real Estate Invest in JaipurA complete pack of luxury living: Anantara the villa is not just a small township but a complete world. This township gives you a luxurious lifestyle to establish a standard of living. You will get unlimited amenities that will amaze you. From a multipurpose hall to the kid's play area, everything mesmerizes you with a "Wow" factor.
Spacious living: Don't just fit your things but get a spacious area to live . When a person is looking for a luxury villa, space and big size are the two most important factors. Anantara villas are 4 BHK Duplex Villa with a great space to fit your things and a big area to live like a "King".
Connectivity with preferred locations: A luxury villa is not just about the amenities and ambiance but contains multiple factors. The most important factor is connectivity with the prime locations and top-notch elements like schools, colleges,&corporates. Anantara is situated at Ajmer Road, Near Pink Pearl and 1200 ft. wide ring road.
Safe & Secured Premises: Gated premises, 3 tier security, intercom, surveillance at the common area with CCTV: These things make a place safe & secure. When you will purchase Anantara, safety &security are not just add-on features but a priority. At Manglam Anantara your home is always protected from theft, or any sort of mishappening even when you are not at your home.
In-house maintenance team: People living in modern or luxury places are always looking for some additional services. The in-house maintenance includes garbage collection from door, plumber & electrician availability on-call, kids play area, mini plex, etc. All these things are managed by the in-house team.
There are multiple perks associated with the purchase of Manglam Anantara. You will get to know more once you purchase Anantara: The Luxury Villa