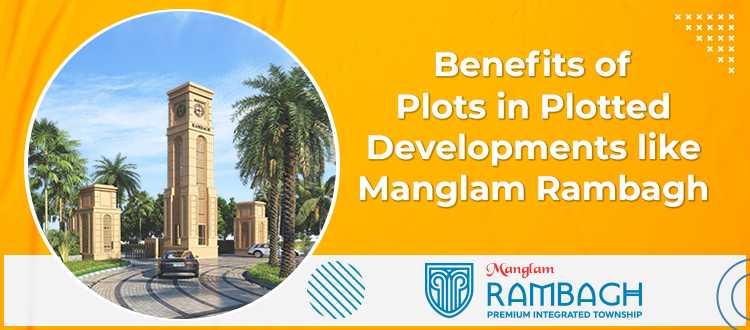 Benefits of Plots in Plotted Developments like Manglam Rambagh
Today, plotted developments are becoming predominantly popular. More and more people are deciding over buying residential plots in plotted developments like Manglam Rambagh. Plotted developments are the subdivisions of land that are up for sale for the construction of villas, houses, or other housing options. There are a number of benefits of buying plots for sale in Neemrana in plotted development like Rambagh.
Manglam Rambagh offers residential and commercial property in Neemrana equipped with state-of-the-art amenities that can fill the life of residents with opulence. 
Plotted developments are growing in popularity for all the right reasons and those are mentioned below. 
Privacy and security
One main reason why home-buyers invest in plots in plotted developments is because of the high security and safety it ensures. The residents live free of the outside traffic and enjoy the lavish greens surrounding them. 
Low maintenance
The best part of owning a plot for sale in Neemrana is the benefit of minimum to low maintenance. The plot owners are only responsible for the maintenance of their plot and they don't need to worry about the neighbouring plots. This ensures that the lands are well-maintained. Also, plotted developments such as Manglam Rambagh build the basic infrastructures like roads and water services beforehand to remove the burden from the homeowners. 
Design and innovation
Plotted developments allow homeowners to design and build their homes according to their preferences and taste. It not only saves money but also lets the homeowners take account of every aesthetic aspect they wish to add to their dream home. 
Ample Amenities
A plus point of buying a property in Neemrana in Manglam Rambagh is the abundant amenities it provides. It not just fills the life with indulgence but also adds convenience to the lifestyle. The residents of plotted developments can enjoy luxury amenities like a clubhouse, swimming pool, modern gymnasium, function hall, etc. Also, the plots are surrounded by ample green spaces that fill the life of residents with serenity and give them recreational zones surrounded by nature. 
Convenient Location
Mostly, plotted developments are located near highways and main roads, which offers excellent connectivity for the residents. Not just that, it also lets easy access to crucial infrastructures like schools and markets. 
 So, if you are convinced that plots in Neemrana in plotted developments like Manglam Rambagh can be the right fit for your future, you are absolutely correct. Not just will it be great in the sense of building your dream home, but it will also offer great investment returns in the future. Manglam Rambagh offers property for sale in Neemrana in varied sizes along with plot adjoining options. So, if you are ready to build your dream home from scratch, Rambagh is perfect for you.