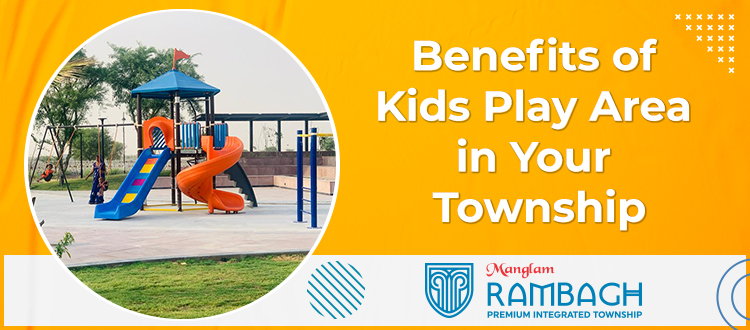 Benefits of Kids Play Area in Your Township
With the rise of nuclear families, parents hardly get time to spend with their children.
Most of the time working they are away from home. In that case, they don't get much time to go outdoors and play with their children, leading to children always being at home. All these have also led to a rising case of obesity in children. So, how can we combat this situation? Township in Neemrana, the Manglam Rambagh that offers property in Neemrana is equipped with amenities like kids play area, indoor games room, and swimming pool that are perfect for children to take in some exercise that helps them remain active. Choosing the right residential project, where children can play outdoors in full safety will take care of all your worries about your child's physical health.
We have put together some of the benefits of open playgrounds on your child's growth and development.
Physical Exercise
The main benefit of having an open ground playing area for your kids in the township you are living in is that your child has easy access to it allowing them to exercise whenever they want. They will have a great place to play, enjoy and exercise. For children, gaining good exercise will help in their mental and physical development. 
Good Source of Vitamin-D
Sunlight is a major source of vitamin D. Vitamin D is important for the development and strengthening of bones. Playing outside in the sun is a good way to get in some sunlight and vitamin D. Ensure that your child plays outside in the sun during morning hours. 
Developing Social Skills
We live in a structured society, so we and our children need to possess some social skills. Playing outside with other children allows them to interact and develop friendships that in turn improve their intellect and personality. This not only improves their esteem and confidence but prepares them for their personal and professional future life. 
Better Physical and Mental Coordination
A good mind and physical coordination are important for children. Playing outside gives them ample opportunities to develop it. Good coordination also helps prevent injuries and improve children academically. 
Reducing Stress
Today, with the increased pressure of academic performance and acquiring new skills, children are facing stress at a very young age. Playing with other children allows children to relax and greatly reduces their stress. 
Increase Learning
Residential projects like Manglam Rambagh offer multiple sports options for children to explore, all they need to do is gather up their friends to play. One of the benefits of living in sports-centric residential projects is that it allows your children to learn new sports while playing, even improving their learning capabilities. 
These were some of the benefits of having a sports facility in your township for your little ones. If you are also looking for a property in Neemrana that aids the physical and mental growth and development of your child, Manglam Rambagh is the place for you. Also, these plots for sale in Neemrana are perfect for you to build your dream home. The property for sale in Neemrana is equipped with amenities that aid the overall development of your child.