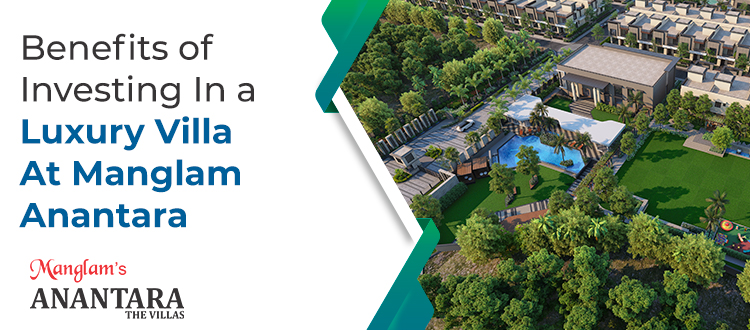 Benefits of Investing In a Luxury Villa At Manglam Anantara
Real estate is becoming the most preferred form of investment choice among investors in Jaipur. With the continuous improvement in the ease of property buying, it is the best time for investors to invest in real estate like the 4 BHK luxury villas on Ajmer Road.
Among the multiple options for property investments available, from apartments to luxury duplexes, one of the best forms of investment choice for property buyers today is the villas in Jaipur. Here's a look at some of the benefits of investing in villa homes:
Excellent Investment:
The one best part of investing in a 4 BHK luxury villa on Ajmer Road is that you are not only buying the building but also the land it stands on. The land value continuously appreciates with time making it a great resale option. 
Best Locations:
Villa projects are mainly located on the outskirts of the city allowing residents to enjoy a serene life in an environment with no noise and air pollution. The villas at Anantara are spread out over large areas of land fostering a better quality of life for the residents. 
Greater Privacy:
Unlike apartments, you can enjoy your life in full privacy with no shared walls at the villas on Ajmer Road,  your mornings with a cup of tea on your front porch without the eyes of your neighbours on you.
Plush Luxuries:
The 4 BHK luxury villas in Jaipur offer a plethora of amenities that can easily fill the life of residents with opulence allowing them to enjoy their life to the max. The villas at Manglam Anantara are equipped with lifestyle amenities like a swimming pool. well equipped gymnasium, clubhouse, kids' play area, etc. 
Safety and Security:
Villa projects like Anantara come with 24*7 security measures allowing residents to feel safe and assured without having to fear about their, their elders, or their little one's safety. 
Freedom at its Best:
Villa living comes with multiple benefits and one that counts the highest is the freedom that tags along. One can add any changes to their home, from adding a new floor to creating a terrace garden, one never has to ask for permission. One can easily redecorate and renovate spaces in their home. 
The 4 BHK luxury villas on Ajmer Road by the Manglam Anantara are the ultimate luxury symbols attracting investors to invest in such a beautiful and promising project. The wonderfully designed villas in Jaipur tend to infuse luxury into the lives of residents while giving them ample reasons to fall in love with their abode.