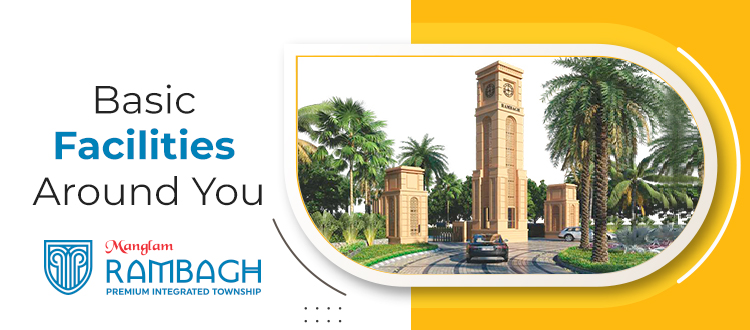 BASIC FACILITIES AROUND YOU
Manglam Group brings you another set of residential plots in Neemrana, the emerging industrial capital of Rajasthan.
Located centrally at Jaipur-Delhi highway, disconnected from lousy, modern, city, busy vibe surroundings; it renders an atmosphere for peaceful and joyful living.
Strategic advantages it offers:
1. Green Living: Surrounded by landscape gardens, it provides a serene and tranquil experience for residents. They don't have to travel far and wide to experience oneness with nature.
Fulfillment of diversity of needs: Entering the area of living includes a walk of several meters from the main highway.A whole range of exciting and refreshing activities like indoor games, moving theatre in clubhouse and swimming pool as well as information and experience giving industrial work related activities in commercial area, makes it a beautiful and enriching place to live in. Residents don't have to travel to other places for getting their routine needs fulfilled. Furhter, this residential property in Neemrana caters to all physical and creative needs of residents. Fitness of residents is well assured of as there are fitness studios and modern gymnastics area which is easily accessible.
Presence of High quality social infrastructure: Primary Heath Care Centres, Hospitals and workspaces are just a few kilometers away. There is a separate kids play zone, games room, function lawns, which are easily accessible and well managed, Jogging track and Tennis and badminton court for sport loving residents, which is important for maintaining physical fitness of individuals. A Cargo and international airport (Between Ajarka and Kotkasim) construction Project is ongoing, which will facilitate air transportation for Neemrana, Shahjahanpur, Bhiwadi, and Behror. Also, a stretch of Delhi Mumbai Industrial corridor is expected to pass through Neemrana investment region.
Intelligent Construction Design: There are multiple sizes of residential plots for sale in Neemrana. Underground service lines and flexible planning structures are added features.Abundant open area is present for fresh air to survive.There is separate facility areas present.
What do you wait for then?
Make a smart decision and book your plot in Neemrana with Manglam Rambagh for a fruitful investment!!