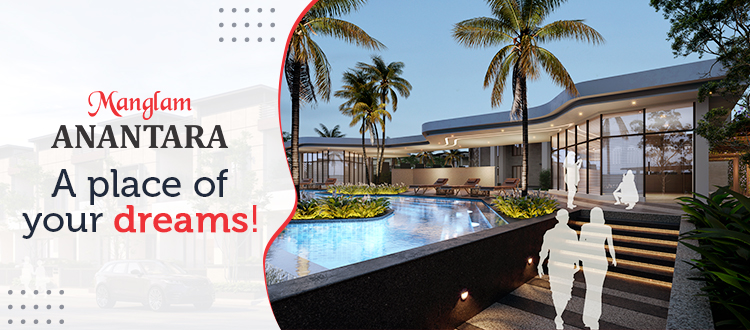 Anantara: A place of your dreams!
What you should know more about Manglam Anantara?
The first and most important thing is to understand the USP of a project. What makes Manglam Anantara distinct from others? The USP of the Anantara are:
100% power back up of common area
A safe and secured gated premises with three-tier securities.
A private garden of 1.5 acres to keep you fit and healthy
A fully equipped luxury clubhouse to organize some small function
Close to the city and many top-notch schools, universities, and corporates.
Manglam Anantara is a luxurious place to live and brings joy and cherish in your life.
Care beyond construction
Manglam is a synonym of trust & quality. The three stages of security check protect the residents against theft, fire, trespassing & vandalism. The property is maintained and managed by Harmony Facility Management Private Limited – a company of Manglam Group. It is dedicated to quality and professionalism in property management. The Manglam Anantara duplex villa includes:
Drawing & Dining
Kitchen
Bedrooms
Washroom
Balcony, Terrace & Exterior
Safety & Security
Anantara Amenities
Anantara is a luxury place to live. Manglam is developing a luxurious villa at Ajmer Road with unlimited modern amenities. The modern amenities offer by Manglam Anantara are:
Safety & Security: When you are purchasing a luxury villa, the most important thing a person ensuresis safety and security. Manglam Anantara is a completely safe &secure township that includes 24*7 security with guards, CCTV surveillance &an intercom.
Luxury at your doorstep: When you are purchasing Manglam Anantara, you will get unlimited benefits and a luxury place to live at your doorstep. It includes a luxury clubhouse, swimming pool, multipurpose hall, garbage collection from home.
Manglam Anantara is a premium villa project at Ajmer Road in Jaipur. The Anantara is a 4BHK Duplex Villa that brings a whole new lifestyle. Anantara: The Villas are surrounded by lush green tranquillity and luxury ambiance and facilities. Manglam Builders have planned to integrate the needs of modern-day homeowners.