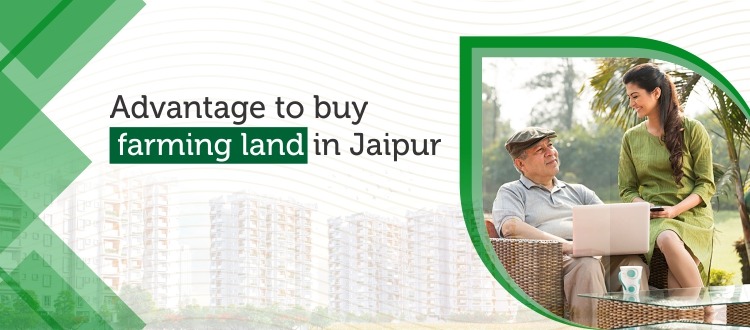 Advantages to buy farming land In Jaipur
Farming is directly related to our livelihood. The grains we eat to live and sustain our lives are all grown on farms. Thus, farms and farming are an integral part of us humans. We cannot perform our duties without eating. Hence, farmers and their workforce help us generate our food. Thus, to buy farming land in Jaipur requires efforts and legal formalities.
Countries like India are majorly dependent on their agriculture, which is also a significant chunk of their economy and per capita income.
Several businesses are directly and indirectly related to farming, and people are earning their livelihood. So, farms are integral to everyone
s life whether we live in any part of the world.
These days, organic farming is booming around in India. That's simply because of the health benefits it is offering to people. Chemical farming is too hazardous to the body. Several scientific journals have been published in the past. So, people want to buy farming land for growing their favourite fruits, vegetables and grains.
In India, a lot of people are getting aware of organic farming and keenly looking to buy farming land. However, there's a procedure one has to follow before purchasing those land. It is not for everyone to buy because commercial use is entirely banned. Thus, anyone who has alternative thought apart from growing should cast those thoughts away.
There are complex legalities that a buyer has to go through before even diving into the thought of getting hold of farmland.
Things to know before buying farmland
Agricultural land is not available to everyone for purchasing. There's a specific reason a farmer or a farm owner would resort to selling the land. It may be due to some loan or debt issues or the piece of land going barren. You should know the story behind it to avoid any legal patchwork afterwards.
The laws in India are inclining towards farmers, and rightly so because they grow food for us, contribute a lot to our economy. Lots of jobs are dependent on that. Also, there are different laws and rules for irrigated and non-irrigated lands.
Following the incessant construction on farmlands as they are cheaply available compared to the commercial ones led to strict laws coming into power. They are needed because myriad people misuse lands, and farmers remain neglected of their fundamental rights.
Thus, while pitching to buy farming land in India, ensure no disputes are encircling that. There should not be any legal problems. The entire process of registering the land must be hassle-free. If that position is available for you and suits the situation, one should freeze the slot and buy the land.
Some of the legal tips to buy farming land in India
Measuring the size of the land as mentioned in papers
Get the tax receipt and bill regarding the farmland
Get the conveyance deed of the land
The title deed of the land
Stamp duty of the farmland
Grabbing encumbrance certificate
Agreement for sale
Stamp duty
The stamp duty is a type of tax levied by any state government. Thus, it may vary in different states. It is a legal document that a buyer or a seller may present as evidence in a court of law. While claiming land, the legal proceedings happen on a stamp paper.
Advantages to buy farming land
A buyer may be benefitted after buying agricultural land if the state government plans to build an infrastructure project there. In that case, the one with the land can receive huge returns. Moreover, the compensation is massive in that scenario of acquisition. Currently, several governments are working on a land pooling policy to expand cities for accommodating the growing population.