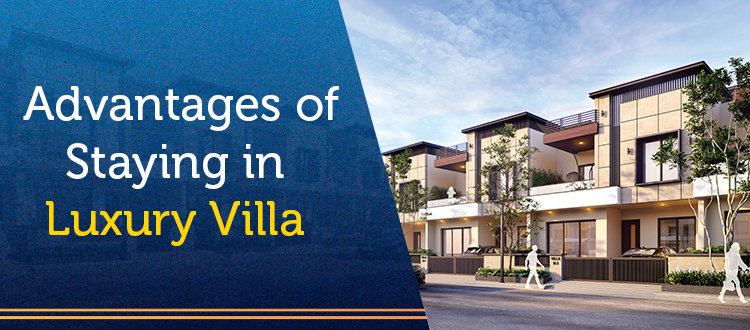 Advantages of Staying in Luxury Villa
Urban life is more convenient with various features as compared to rural life.
With the modernization of Urban living, "Villas" become the best place to live. People are purchasing Villas next to the city and get their personal and private space. When you are going to compare, apartments, flats, residential homes, and villas, the most preferred choice is Villa. You will get unlimited benefits while living in Villa with an unbeatable premium experience. Villa gives you a luxury feel and consideredas an icon of status, sophistication, luxury, and exclusive lifestyle. Private Villa with limited space has changed the definition of luxury and comfort. Manglam Anantara allows you to become a part of the luxury lifestyle. Purchase Anantara Villas on Ajmer Road and experience the luxurious lifestyle and get a chance to stand different from others.
A home resonateswith one's personality and people choose the home that fits with their lifestyle. Villas in Jaipur are known for the design, comfort, and luxury they provide.
The advantages of staying in Villa are:
Privacy: No one likes a nosy neighbor who always keeps eye on your home. It seems annoying for everyone. This problem can be solved, once you purchase a Villa. A villa gives you the complete privacy you were looking for with your own private space. You have your terrace, a space to live and no one can intrude on your property until you allow it. Enjoy your time with your Family & Friends!
Security and safety: You can choose Manglam Anantara to give you a highly safe and secure place from any kind of threat. There are guards at the main entrance with a phone so that visitorsare only allowed once you confirm.There are CCTV cameras in the Anantara to keep you protected in night. From main gate to parks, everything is under CCTV surveillance, to keep you protected all the time.Sound good!! Taking care of the customer is always a priority for the "Manglam Anantara".
Modern Lifestyle: A home defines your personality and it is not just a place to live but an emotion. The generation is moving towards a modern lifestyle and meet the needs of comfort and luxury with impeccable quality infrastructure and design. You can get a good experience in Villa by getting good oxygen from the green environment, chirping birds with lush greenery.
Amenities:Luxurious villas provide you with such great amenities that you will not need to visit a resort for your vacation. The facilities that they provide you are equal to the facilities offered by five-star hotels and resorts. The infinity warm swimming pools are a remarkable feature of modern villas. Gym, fitness rooms, private spa, sauna, clubhouse, children's park, senior citizen walking area, and many other such amazing amenities that add value to your life. These amenities help you relieve stress and release your pent-up emotions. Coming back to a luxurious home that has such amazing amenities is truly a blessing.