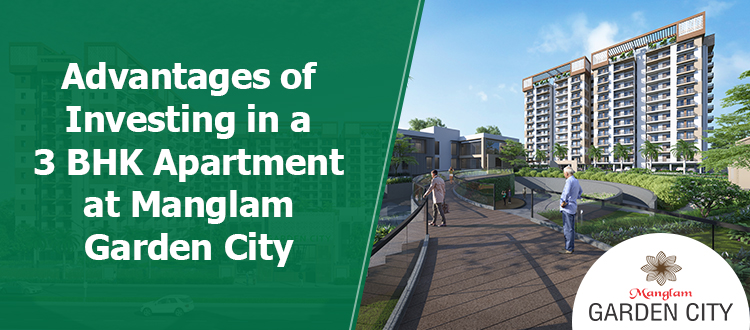 Advantages of Investing in a 3 BHK Apartment at Manglam Garden City
Buying a house is still one of the biggest decisions of one's life. While making this decision, it is very common for people to get confused about what kind of property to invest in. If one is planning to buy an apartment, they mostly get confused between investing in a 2 or 3 BHK in Jaipur. To help you cut the confusion and make the best decision for your future, we have curated a list of factors that will help you. However, making the right investment also requires research, finances as well as the right knowledge about the real estate market.
Here are a few factors that will help you make the right decision while investing in flats in Jaipur.
Think About The Future
First and foremost, if you are someone who always thinks about the future, 3 BHK flats in Jaipur are the right choice for you.
You need to understand that your family will grow with time, thus to make sure everyone gets enough space, a 3 BHK will be perfect. While investing your hard-earned money in something that is for a lifetime, make sure it serves your future too.
Space is Never an Issue
For family apartments, extra spaces are always a must. A 3 BHK will give you enough extra space than a 2 BHK to host your guests as well as give your growing kids extra room to enjoy or study space. With 3 BHK flats for sale in Jaipur, space is never an issue.
 A Competitive Pricing
Most people end up investing in a 2 BHK rather than a 3 because they find it comparatively affordable. However, while considering the many other factors attached, investing in a 3 BHK in Jaipur is always a reasonable decision. Nowadays, many developers such as the Manglam Group are coming up with 3 BHK apartment projects like the Manglam Garden City at competitive prices with high-end amenities like never before making them perfect for investment as compared to 2 BHKs.
Buying an apartment is a dream for many and that dream is beautifully fulfilled by Manglam Garden City which offers a 3 BHK apartment in Mansarovar Jaipur that is perfect in every sense. They are equipped with high-end amenities that fill in the lives of residents with opulence and make them glad about the decision of investing in a 3 BHK in Jaipur.