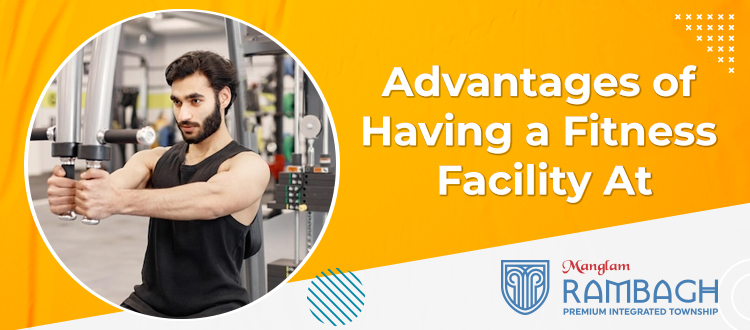 Advantages of Having a Fitness Facility At Manglam Rambagh
Having a gymnasium and other health-oriented facilities in your housing society can be a boon. Apart from increasing the value of the property, it also encourages residents to take care of their health and indulge in physical activities that improve their health. Manglam Rambagh is an integrated township in Neemrana that offers residential and commercial plots in Neemrana that are well equipped with the latest world-class amenities like gymnasium, clubhouse, mini theatre, steam sauna, function lawn, fitness studio, swimming pool, and many more. The modern well-equipped gymnasium and fitness studio are perfectly designed for the residents to follow an active lifestyle.
Advantages of the gymnasium at the township in Neemrana are as follows:
Improve Health
Exercise is an integral part of one's health. And having a gymnasium in your community helps you exercise regularly in turn boosting your health. It helps one stick to their fitness routines without any hassles. Working out is also essential to improve quality of life and having a fitness center and gymnasium significantly makes it easier.
Convenience
Having a gym just a few steps away from your home will allow you to work out according to your convenience. You won't have any excuse either for lack of time or distance. You can go to the gym according to your time and squeeze in a workout without any hurry. You also won't experience any hassles of parking or traffic.
Less Crowded
One of the major benefits of having a gym or a fitness center in your township is that the gym won't ever be overflowing with people. If you are someone who is very conscious or doesn't like working around a lot of people, community gymnasiums serve your purpose. They are not crowded mostly and even you can work out according to your timetables without experiencing any rush.
Saves Money
One of the best things about having a gymnasium is you don't have to spend your hard-earned money on gym memberships. Let's be honest, gym memberships can be rather expensive. With having a gym in your community, you don't need to pay bucks for any membership and you even save on commutation charges.
Meet Your Neighbours
Working out with other neighbors in the community gym can help you meet and interact with other residents and even make friends. Meeting new people at gymnasiums can be fun and exciting.
These were some of the benefits of having a gymnasium in your township. The beautifully integrated township in Neemrana is located in one of the best locations of Rajasthan near major industrial and government establishments. They offer plots for sale in Neemrana that are equipped with state-of-the-art amenities that add convenience and luxury to the lifestyle. You can buy a property for sale in Neemrana and build your beautiful dream home according to your desires.