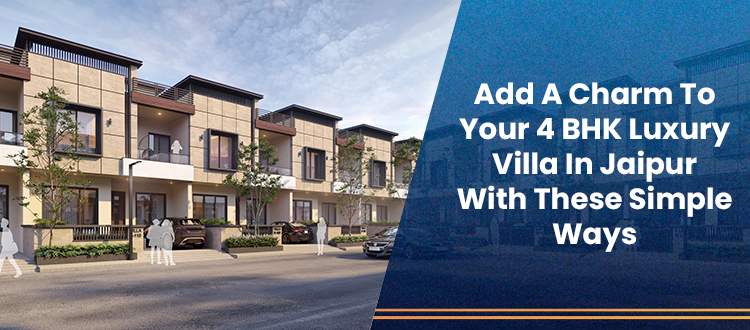 Add A Charm To Your 4 BHK Luxury Villa In Jaipur With These Simple Ways
Owing a beautiful luxury villa is a dream for many. Everyone who invests in
one of the villas in Jaipur has a predetermined aesthetics and feel of the
home they want to live in. However, buying a luxury villa is one thing, and
maintaining it is another. Premium luxury villas are way different from regular
houses and with proper planning and designing, one can give a very beautiful
look to their home.
Add a hint of elegance, soothing appeal, and modernity to your villa home with
these ideas. Enhance the overall look and feel of your beautiful home with
easy steps.
1. Beautiful Floors
No doubt, flooring is an important part of the home aesthetic. It
determines the overall look and feel of the home. Wooden and marble
flooring are excellent options that add a beautiful look to the home. One
thing to remember is, flooring should always be chosen that is easy to
clean and maintain. The flooring of your home can greatly aid the
luxurious feel of your home.
2. Beautiful Views
One benefit of investing in beautiful villa projects like Manglam Anantara
is the picturesque views. While living at Anantara, you are surrounded
by the scenic beauty that adds peace and serenity to your life.
3. Spacious Gardens
The villas on Ajmer Road are not just the epitome of luxury but also
are a place where your heart will love to reside. The villas are
surrounded by 1.5 acres of lush green garden, a perfect place for your
evening walk and rejoicing with your family. Everything at Manglam
Anantara is so thoughtful and beautiful that it will make you fall in love
with your abode.
4. Landscaping
You can conveniently enhance the look and feel of your home by
adding some beautiful plants to your garden area and porch. Placing
beautiful exotic plants with flowers is a great way to add vibrancy and a
soothing vibe to your home.
These are the four simple ways you can make your 4 BHK luxury villa
on Ajmer Road look more attractive and beautiful. All of us want to live
in a home that is as per our likes and aesthetics and at the same time is
a convenient and peaceful place to live in.
At Manglam Anantara, you get exactly what you want. The luxurious
villas are equipped with everything you need along with lavish amenities
that significantly enhance your lifestyle.
So, it's time to book your dream villa right now!