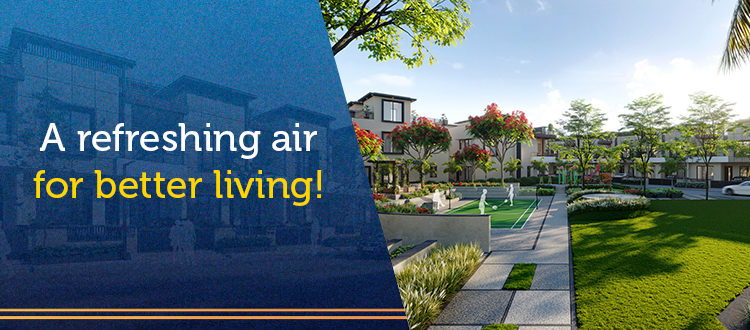 A refreshing air for better living!
What does your dream home look like?
Surrounded by plants, green space, clean and pollution-free environment. These are some important aspects a person looking for when purchasing a new house or property. Anantara: The Villa is a luxury place to live. The villas are surrounded by lush green & clean environments. You will get a 1.5-acre garden as well as separate green areas for kids, senior citizens. Moreover, sunshine enters your villa to keep your body and mind refreshing. These villas are constructed on green building concepts and promote healthy and better living.
So, how Manglam Anantara is promoting a refreshed air for better living?
Green environment: A luxury life starts with a green and clean environment. If people are seeking a luxury apartment, then a green environment is their priority. The acres of land need to be constructed with plants, and herbs so that residents can get healthy and fresh air.
Clean & pollution-free environment: Luxury villas promote a clean and pollution-free environment. The property is situated near to the special economic zone as well as some distance from the city. Thus, the chance of pollution is low as compared with other properties situated middle of the city.
A luxury villa gives you green & pollution-free environment. The luxury 4 BHK villa in Jaipur offers unlimited amenities. The lush green environment with ample green space and from beautiful sunrise to sunset – you will get all. An open badminton court and kids play area with the temple, meditation centre to keep you close to nature. Manglam Anantara gives you a refreshing air to give you a better and healthy living.