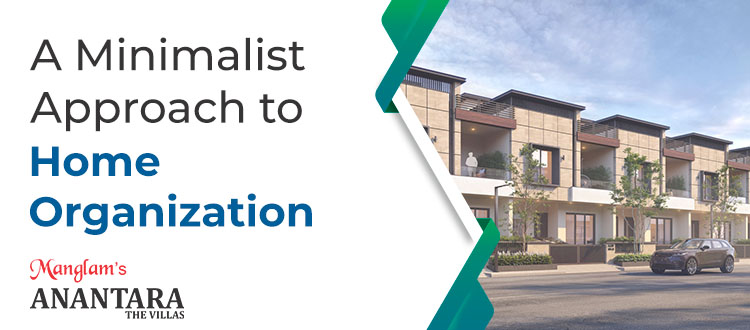 A Minimalist Approach to Home Organization
Recently, with the growing popularity of lifestyle choices like minimalism, people are opting to keep their homes as minimal as possible. But what is minimalism and how can we use minimalism in our home organization? Minimalism is a practice to eliminate unnecessary elements to give more space to elements needed to stand out. However, whenever we move into a new home like the villa on Ajmer Road, we try to fill it with unnecessary stuff to create a feeling of home. The more the stuff, the more management, cleaning, and decluttering it requires. So, if you are someone who wants to keep your home cleaner and organized, opting for minimalism can be good for you. The 4 BHK villas in Jaipur are perfectly crafted to meet the unique needs of your family with ample spaces to enjoy and rejoice.
Small Steps to a Simplified Living
Choose quality over quantity
Don't just fill up your space with the furniture you may never need or don't just spend a ton of money on them that doesn't satiate your space. Go for a unique or vintage piece that adds value to your space. Decorate your space with things you love.
Build a Capsule Wardrobe
Like your home, your wardrobe may also need downsizing. Keep only the pieces you absolutely love and the staples.
Purge It Out!
Whenever you start organizing your space, start off by picking up a trash bag and filling it with things you don't need anymore or haven't used in many months. This will greatly help you organize and declutter your home.
Create a "one in, one out" mindset
Create a minimalist mindset for yourself and your kids. Whenever you think of buying something, takeout something out of your home. Such as in the case of toys, once you buy a new one, give an old toy to some child in need.
Go paperless
Try to cut down on paper usage. You can start off by unsubscribing the magazines you don't actually read. Try to pay all your bills online so that the bills don't go unnoticed in the mails. All this will significantly reduce paper wastage. Also, try throwing out/shredding unneeded papers.
Don't let money run your life
Buy only the things you actually need. Keep budgeting your expenses. This will help you keep track of your money and also keep you from buying things you don't need.

Don't try to go minimal all at once
Start small by giving away only a few things you don't need. Giving in to minimalism all at once can be stressful. The goal of minimalism is to reduce chaos and reduce stress so just don't go overboard on minimalism.
These were a few ways you can give minimalism a part of your life. You can organize and declutter your villa on Ajmer Road following these steps. If you are looking for a beautiful place to call your home, Manglam Anantara offers 4 BHK luxury villas on Ajmer Road that are perfect for you.