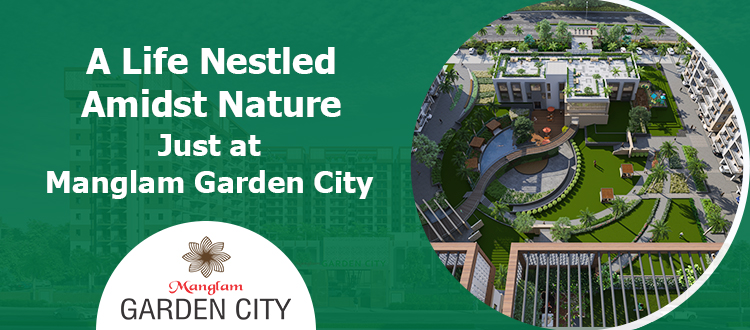 A Life Nestled Amidst Nature Just at Manglam Garden City
Sustainability has become a new trend in the real-estate business. With the continuous advancement in pollution levels, it is important to inculcate sustainability in everyday life. Furthermore, your home plays a great role in the kind of life you live thus including sustainability in your lifestyle can be the best decision you can make today for the betterment of nature. Manglam Garden City is one of the beautiful projects by the very known Manglam Group that is determined to offer spaces that are more integrated with nature, filling the lives of residents with serenity. They offer 3 BHK flats in Jaipur that are perfectly designed offering spacious and well-ventilated spaces that are perfect for residents while promoting sustainability with its redefined strategic planning. 
Here are a few reasons why you should buy a home in Manglam Garden City:
Nestled Amidst Nature:
The 3 BHK apartment in Mansarovar Jaipur is surrounded by lush greens from all sides rendering quality living experiences for the inhabitants that let them appreciate serenity and solitude. The expanse of lush greenery fills the heart of residents with a renewed form of peace and calm. 
Flawless Facilities:
The 3 BHK in Jaipur fosters luxurious living facilities for residents with world-class amenities that also acts as a catalyst to reframing the lives of residents through building a lifestyle they always desired. 
Manglam Garden City offers amenities like a swimming pool,  kids pool, open-air theatre, wet cabanas, tennis court, senior citizens area, cricket pitch, kids play area, and all the high-class facilities that foster the finest living experiences for the residents. 
Get Outdoorsy: 
Along with fostering sustainable living experiences, the 3 BHK flats in Jaipur also allow one to get outdoors and enjoy some quality moments in the fresh air. At Garden City, being confined in your home will be an idea of the past. It gives you ample space to get outdoors and enjoy life at its best without having to feel strained. 
Get Active, Stay Fit:
The apartments at Garden City are equipped with lifestyle amenities like a swimming pool, a well-equipped gymnasium, tennis court, cricket pitch, and many other facilities that allow residents to engage in an active lifestyle. All this allows you to take up an activity of your choice while also engaging with the neighbours to form fruitful connections. 
All these are a few among the many reasons why living in one of the flats in Jaipur at Manglam Garden City can be the best decision for you. Nestled amidst nature, the apartments are a perfect escape from the daily hassles of life with their composed and calm sense of surroundings.