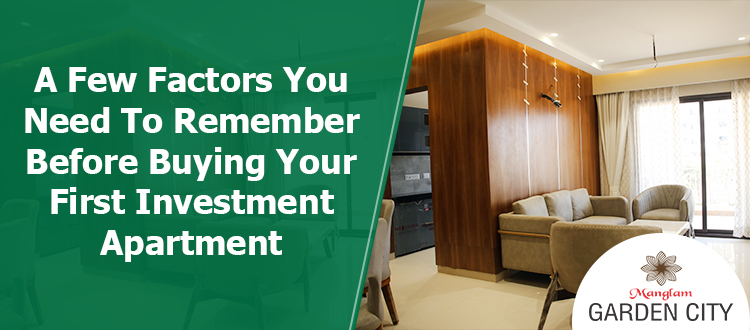 A few Factors You Need To Remember Before Buying Your First Investment Apartment
Whether you plan to purchase a property for investment purposes or
for residing, it is always best to make the best deal that yields you a
return rather than leaving you broke. Property investment is a big
decision, especially for first-time investors who have little to no
knowledge of what and where to start with. Let's get real. Investing in
the right property is no piece of cake and not all property investments
can make you rich if not done properly.
So, how can one ensure a profitable investment while investing in 3
BHK in Jaipur? Let's find out.
1. Don't Let The Emotions Interfere
It is easy for someone to get a little driven by emotions when it's
their first property investment. This may be fine if the property
you are looking at is strictly for residency purposes. But if you
plan to resell and earn profits, don't let the emotions interfere.
Negotiate and seek the best price for the property. Remember,
the lower the property price you buy, the greater the profit later.
2. Do Your Research
Before investing in any property, do thorough market research
along with the location analysis. This gives a better idea of
what's more valuable in the market. This also determines
whether the property you are picking will yield good profits in
the future. It is always best to have good market knowledge to
make the best investment.
3. Calculate the Profits and Expenses Beforehand
Before you end up blindly making your first investment, start off
by calculating all the expenses involved. Also, how much do you
expect to get as a profit from the investment? Keep all the
operation and renovation costs in the record. This allows you to
have a better understanding of your budget and how you can
plan your money.
4. Clear Your Debts
Before entering the real estate market, make sure to pay all your
debts, from medical bills to student loans. This ensures you
don't face any issues while applying for an investment loan.
While investing in one of the 3 BHK flats in Jaipur, you can
consider getting an investment loan. There are plenty of options
available. With good research, you can get a good investment
option that can help you get started with your investment
journey.
5. Choose Your Partner Carefully
Many first-time investors end up partnering with their friends
instead of taking an investment loan. One needs to understand
that an investment is not always profitable and it can also turn
out drastic results. Your partner should be a person you trust and
are comfortable with. Also, keep the implications of the
partnership agreement intact.
These were a few simple things that first-time investors need to keep
in mind if they want positive results from their investment and not
end up with something they regret.
One of the finest investment opportunities, brewing in Jaipur is
Manglam Garden City. The 3 BHK apartment in Mansarovar Jaipur is
perfectly located and is a perfect investment option for you.