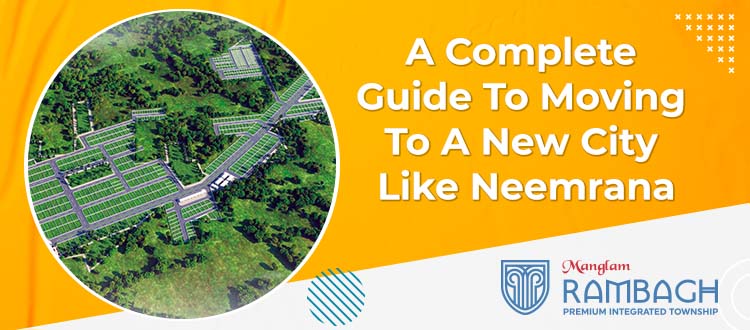 A Complete Guide To Moving To A New City Like Neemrana
Are you planning to move to a new city with your family? Moving to a new city can be exciting as well as overwhelming. It sets in a lot of confusion as well as stress. If you are also moving to a new city like Neemrana and want to ease your moving process, below mentioned are some tips that would help you settle in the new city.
Budget The Move
Moving to a new city can be very expensive. In that case, you need to have full control over your expenses and prepare a basic spreadsheet to allocate your money to essential expenses during the move. This will help you be prepared for the impact of moving on your finances.
Social Life
Moving to a new city can easily disrupt your social life. You may or may not have friends in the city you will be moving to. In that case, be more open to meeting new people or you can meet up with your batchmates from the alumni network. Manglam Rambagh with property for sale in Neemrana offers you amenities like clubhouses, a swimming pool, and a gymnasium where you can meet new people from your neighborhood and even make friends with.
Your Perfect House
If you are moving to a new city with your family, a place like Neemrana offers the best housing facility. Plots for sale in Neemrana are perfectly located in a lush green surrounding with ample amenities to build your perfect home according to your preference. This property in Neemrana is strategically located serving your connectivity to all major infrastructures so that you can live comfortably in a new city.
Research weekend getaway options
Moving to a new city also includes exploring possible weekend getaway options. Neemrana has some of the most beautiful sites like Neemrana Fort Palace, Sariska National Park, Siliserh Lake, Ancient Vrindavan Palace, and many other attractive locations for spending some quality time with your loved ones.
Learn about transportation
One of the important points to consider before moving to a new location is the transportation available so that you can commute easily to your work without any hassles. Manglam Rambagh offers residential and commercial plots in Neemrana located on the main Jaipur-Delhi Highway. Also, Neemrana will fall into the RRTS corridor serving excellent connectivity to top-notch locations like Delhi, Gurugram, Rewari, Neemrana, and Alwar.
Create a Bucket List
Before moving to a new city, make a list of all the things you can do there. This will help you easily socialize and mix up in the culture of the city. Also, you will discover new locations helping you build a better connection to the city.
These are some of the ways you can make your move to a new city easier. Neemrana is a beautiful city in Rajasthan and is perfect for you if you are looking for a new city to move to. Manglam Rambagh offers the best property in Neemrana where you can build your dream home according to your desires and wishes.