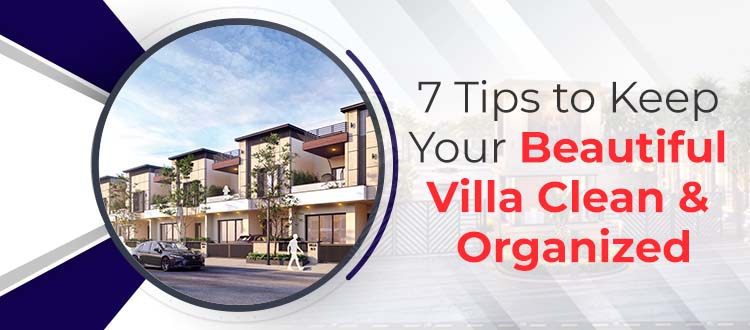 7 Tips to Keep Your Beautiful Villa Clean and Organized
A villa in a beautiful location, surrounded by landscaped gardens and high-end amenities is nothing less than a dream.
However, with big spacious homes, there comes an increased responsibility of upkeep. For some, keeping their 4 BHK villa on Ajmer Road squeaky clean can be a bit difficult. One needs to develop certain habits to be able to maintain their home. Manglam Anantara offers beautiful villas in Jaipur that are beautifully integrated to meet all your needs and demands along with adding luxury to your lifestyle.
With small changes in your routine, one can easily take care of their designer villas without spending bucks on the housekeeping staff. Some of the simple yet brilliant ways to keep your beautiful villa on Ajmer Road clean and organized are as follows.
Give Everything a Place:
One of the simplest ways to keep your villa organized is to declutter unnecessary stuff and designate proper places for everything. Also, keep in mind to place everything in its proper places after use. This simple habit can take you a long way in upkeeping your beautiful 4 BHK villa on Ajmer Road.
Keep the Kitchen Clean:
One of the significant elements of a home is the kitchen. Make a habit to clean the kitchen after every use. It is not only important for the looks but also the hygiene.
Keep your Office Work and Studies Confined to One Place:
In this digital world with more use of laptops and other gadgets, it's been seen that often they keep lying on sofas, bedsides, or beds in the homes. It's important to keep all your office and study work in one space.
Always Make Your Bed:
One of the worst habits most of us have is not making our beds after waking up. This easily makes our beautiful villa in Jaipur look hideous. Make a habit to fold your blankets and straighten up your sheets before getting out of your room.
Do Your Laundry with Discipline:
One of the major turn offs for villa keeping is dirty laundry, mindlessly hung clothes, and even keeping the washed clothes poorly. Make a habit in yourself and your family members to do the laundry every day and keep the washed clothes in a good way.
Don't Go Overboard With Decor:
Don't just follow magazine covers or trends to decorate your home. Understand your needs and requirements from your home and design as per that. Keep in mind to use elements that are easier to maintain in the long term.
Supplies and Pantry:
For a cleaner 4 BHK villa in Jaipur, it is important to keep all the supplies and pantry items in place. Keep cleaning supplies under sinks or washbasins and edible supplies into the pantry. This simple habit works wonders to keep your villa on Ajmer Road maintained and organized.
These were some of the simple yet effective tips for keeping your 4 BHK villa on Ajmer Road organized and clean. It is important to keep your home clean to maintain its beauty and exquisiteness. Manglam Anantara offers beautiful villas in Jaipur that are beautifully integrated and are equipped with luxury amenities to add luxury to the lifestyle. Invest in one such beautiful property by Manglam Anantara and live a life surrounded by lush greens in a serene environment.