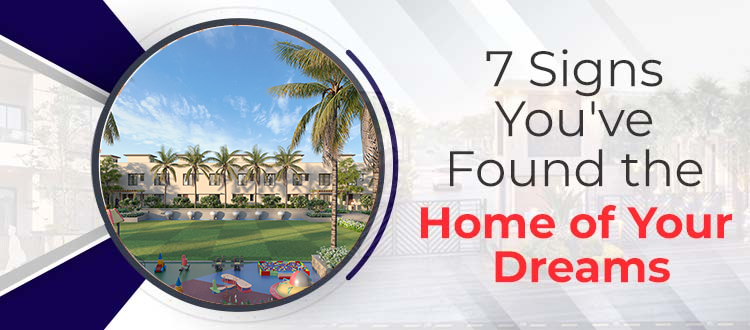 7 Signs You've Found the Home of Your Dreams
Hunting for your dream home can be exhausting as well as overwhelming.
It is a time-consuming process and needs a considerable amount of attention and knowledge. Especially for first-time buyers, it can be daunting.
Manglam Anantara offers 4 BHK luxury villas in Jaipur that would be an exquisite place for you to call your dream home.
Once you find a villa in Jaipur that you like but are not sure if it is your dream home or not, consider these points for reassurance.
You Feel Content:
After seeing a house, if you feel a sense of elation and delight, it's an approving expression. If you can't wait to show it to your family and friends and are excited to move into it, it is generally a positive sign.
Checkoff your Checklist:
In an ideal circumstance, the house checkoffs most of the requirements you had from your dream home. You might have to make a few adjustments but until it provides you with most of the prerequisites, it passes the category for your dream home.
Fits Your Budget:
Finding a home that fits your budget is a reassuring sign. Most of the time, people get so caught up in the excitement of finding a perfect home that they forget about the additional costs. Buying property is a big decision so partake in financial planning and considerable saving.
Location:
One of the major factors that determine your liking for the house is the location. Check for factors like connectivity, traffic, neighborhood and facilities nearby to be assured about the property. The luxury 4 BHK villas on Ajmer Road are located in one of the most beautiful, well-connected, and developing areas of Jaipur.
Decorating Conceptions and Foreseeable Future:
Once you start decorating your home in your head, that definitely means that you have a liking for the house. Along with it, if you imagine yourself living in the home and find yourself happy and joyous, that also is a reassuring sign.
You Don't Want To See Other Houses:
Once you fall in love with a property, it is likely that you don't want to see any more properties and you won't find any other house in comparison to the one you like. Manglam Anantara offers beautiful villas in Jaipur that would make you instantly fall in love with them with their exquisite architecture and amicable vibe.
Trust Your Intuition:
Your intuition can be a powerful tool. If you get a positive gut feeling when you enter the house, it probably is your dream home. Follow your intuition.
These were some of the points to consider if you found your dream home but want to be extra assured about it. The beautiful villas on Ajmer Road by Anantara are a perfect fit for you. Located in the lush greens, they provide the epitome of peace and comfort. The beautiful 4 BHK villas in Jaipur are equipped with all the high-end amenities that add opulence to the lifestyle.