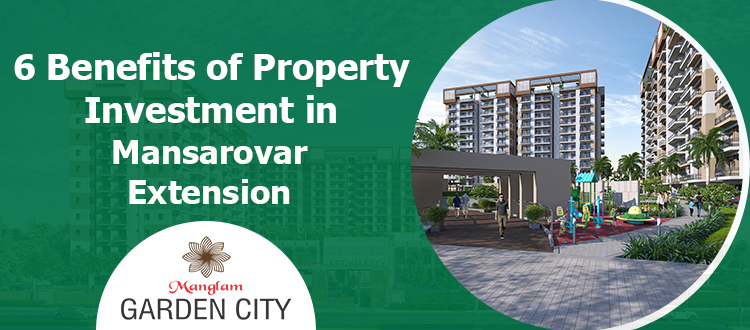 6 Benefits of Property Investment in Mansarovar Extension
To make the most profitable investment, one factor that holds the most significance is the location of the project. If you are planning to buy one of the flats in Jaipur, you must start by deciding on the location you want to invest in. The location of the property governs multiple factors, from accessibility to property appreciation, everything depends on it. Mansarovar is one of the latest hotspots for property investment. 
Manglam Garden City is a beautiful apartment project located in Mansarovar Extension that offers 3 BHK flats in Jaipur equipped with high-end amenities to foster the best living experiences for the residents. Garden City is perfect in every sense, from excellent lifestyle amenities to a promising location, everything is provided to you here. 
Let's take a look at some of the factors that define how Manglam Garden City is perfect with the sense of location. 
The 3 BHK flats for sale in Jaipur are placed in close vicinity to major establishments and serve excellent connectivity through an elaborate network of transportation. Also, you can travel to different parts of the city within minimal travelling hours from the Garden City. 
Garden City places you in a zenith of major entertainment centres and shopping facilities letting you enjoy the time outdoors without having to travel to far-off places. Major retail hubs fall in the vicinity of the 3 BHK flats in Jaipur. 
One of the best parts of investing in a 3 BHK in Jaipur at Manglam Garden City is that it places you near major schools like St. Anselm's, St. Xavier's, and Jayshree Periwal High School, fostering better learning opportunities for your children. While picking Garden City you also pick a bright future for your child as most reputed schools are located in the vicinity. Major reputed hospitals like Dhanvantari Hospital and Fortis Escorts Hospitals are also perfect under a few kilometres from the project. 
Properties in locations like Mansarovar Extension have high growth potential. Investing in a real estate project in this location now will be a wise idea. Manglam Garden City is one of the finest projects that offer 3 BHK flats in Jaipur perfect for family living as well as investment.