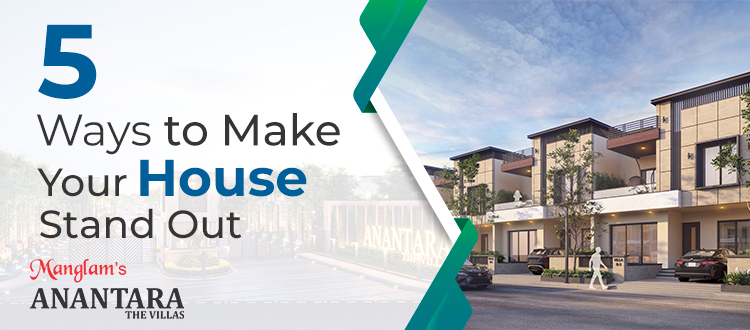 5 WAYS TO MAKE YOUR HOUSE STAND OUT
Your house reflects the personality of the owner or residents of the house but often we forget that.
Most of the houses don't carry their uniqueness as well as they should and can easily be camouflaged among the other houses on the street. To feel more confident about your home, your home should match your style. So, your house must stand out. So, we have come up with some ways your home can match your style and stand out perfectly. But first, let us tell you about a beautiful villa project on Ajmer Road. The Manglam Anantara offers 4 BHK luxury villas in Jaipur that would be a perfect luxury home for you and you can decorate your dream abode according to your unique style.
A Welcoming Entrance
You must have heard, "The first impression is the last impression." This holds true here too. The entrance of your home should match the style of your home and should be subtle. Make your front area facing the street attractive as well as subtle. 
Focus on Your Garden
A lush green garden can easily make your home stand out. Most homeowners don't emphasise this but it is a beautiful addition to your home. Apart from regular trimming, you can add some flower plants and can even some furniture that compliments the rest of the home. 
Take Care of Cleanliness
You will be surprised to know how impactful the cleanliness of the home is. A clean home never fails to grab people's attention. Also, they definitely will leave a mark on the potential guest. Try to keep your home clean yourself or hire an expert. A dirty home can make people cringe easily. 
Focus on the Windows
One thing that is mostly in the view of the people passing by on the streets is the windows. You would be surprised to know how easily a space can be transformed by the windows. Pick the right windows with styles that complement the architecture of your home.
Brighten up your home
The right lighting can do wonders to enhance the appeal of your home. One should prefer to use bright lights for their bathrooms and kitchen and soft warm lights for all the other different spaces. One can also use retro and industrial style light according to their preferences. 
These were some of the ways to add uniqueness and substantiality to your new villa in Jaipur. If you are planning to buy a property in Jaipur, the Manglam Anantara is the project for you. The beautiful 4 BHK luxury villas on Ajmer Road are perfect and you can style these villas in Jaipur according to your preference and tastes.