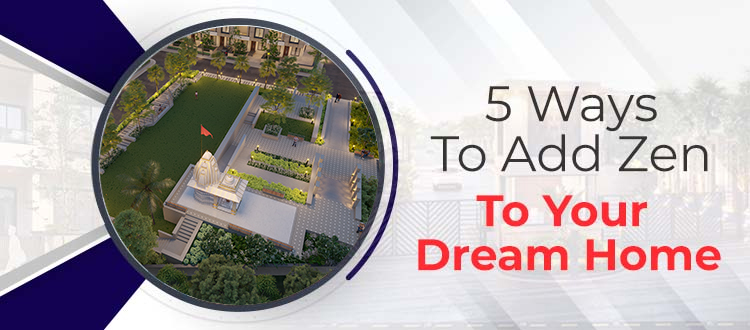 5 Ways To Add Zen To Your Dream Home
Nothing beats walking into your home after a long day at work and feeling a sense of calm and peace
Your interior plays a huge role in balancing your mood. One can easily add zen to their home by simply keeping a few factors in mind while decorating their homes. Decorate your 4 BHK luxury villa on Ajmer Road keeping some of the below-mentioned points in mind to add zen to your lifestyle and home. Buy one of the beautiful villas on Ajmer Road at Manglam Anantara and decorate your dream home according to your choices and experience a lifetime of serenity with happiness.
Let's find some of the ways you can draw zen to your abode more effortlessly.
Simplify Your Space:
First and foremost, declutter your living space. Discard anything that doesn't resonate with your lifestyle and bring joy. Your living space should be clean and clutter-free to spark zen to your space. Also, decluttering your external space would help you keep your mind sorted too.
Pastel and Earthy Tones:
Surrounding yourself with the colors of nature will help you feel more balanced and at zen. Earthy tones and pastel colors in your decor make your spaces look bigger and spacious. Also, the earthy tones keep your mind at peace. The flashy vibrant colors in your decor slay the serenity of zen in your home.
Utilize Soft Lighting:
Let natural light play its charm. Natural sunlight has its own sense of calm with airy and brightness. You can use floor and table lamps for softer lights in your beautiful villa in Jaipur to create a more calm space as overhead lights can be a bit harsh.
Bring Nature to Your Space:
One of the best ways to feel more connected and at peace is to create a greener space. Greenery helps you stay calm, is therapeutic, and enables your mental well-being. Indoor plants also improve air quality.
Introduce Aromatherapy:
One of the easiest ways to create a zen space is with the use of essential oils. Use an essential oil diffuser in your villa in Jaipur to create a calmer and more peaceful space.
These were some of the easiest yet most effective ways to feel more at peace and at zen in your dream 4 BHK villa on Ajmer Road. Your space is a reflection of you so transform your beautiful villa on Ajmer Road into a more tranquil space that resonates with your perspective. Manglam Anantara offers 4 BHK luxury villas on Ajmer Road equipped with high-end amenities that add extravagance to your lifestyle. Manglam Anantara is carefully and passionately integrated and designed to create a space that adds peace and a sense of calm to the lives of residents. Buy one of the most beautiful villas in Jaipur where you can spend a lifetime of happiness and contentment with your loved ones.