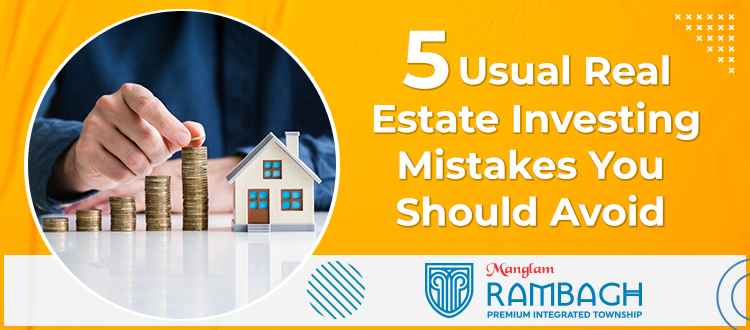 5 Usual Real Estate Investing Mistakes You Should Avoid
Investing your money in real estate can be a very promising prospect. In the era of growing demands for residential projects, the real-estate sector is continuously booming. If you too are planning to invest in real estate like a property in Neemrana, you are definitely making the right selection for your future. However, for first-time buyers, it is easy to feel overwhelmed and make mistakes. Furthermore, not only just the first-time buyers but also the investors who seek to invest in properties regularly can make mistakes as they may get confused with so many options available. So, if you are planning to buy a property for sale in Neemrana, you might want to consider the few points mentioned and try to avoid them. 
Not doing proper research
The first step to fruitful investment is to perform proper research in the market as well as the location where you seek to buy a property in. Look for details of future developments, current property rates, and a good knowledge of the neighbourhood. This knowledge would help you make a well-informed judgement of whether the property you wish to invest in will offer good future returns in the future or not.
Not evaluating your financial capability
One crucial step to investing in a property in Neemrana is to first evaluate your financial condition. Apart from major expenses like the cost of the property, registration fees, and taxes, there are many other hidden expenses included. Prepare detailed documentation of all the major and minor expenses involved and determine whether you can afford it or not. Also, contact your bank to know about your credit score that will help you get a home loan. 
Not checking the builder's reputation
It is always best to opt for reputed developers while investing in a property. This ensures that all the legal work is in place and with no possibility of any deception. Also, reputed developers like the Manglam Group go the extra mile to impress their customers. 
Not picking the right property
Once you have made the necessary considerations, one important decision you are put forward with is the determination of the type of property you want to invest in. It is important to consider your needs and decide the type of commercial or residential property you want to invest in. Picking the wrong property can put your money at risk or can also result in a dead investment.  If you're planning to invest in a plot in Neemrana, the Manglam Rambagh located on the main Jaipur Delhi Highway is perfect for you. 
Not seeking expert advice
It is always better to seek help and assistance from an expert while investing your hard-earned money into a property. Not considering assistance from a professional can prove to be fatal later if you don't have fluent knowledge of the real estate market. A professional legal advisor not only will ensure the legalities of the property but also will save you from fraud. 
This blog has explained all the major mistakes one can make while investing in plots for sale in Neemrana. Take these into consideration and make an informed and carefully considered decision while investing in a property.