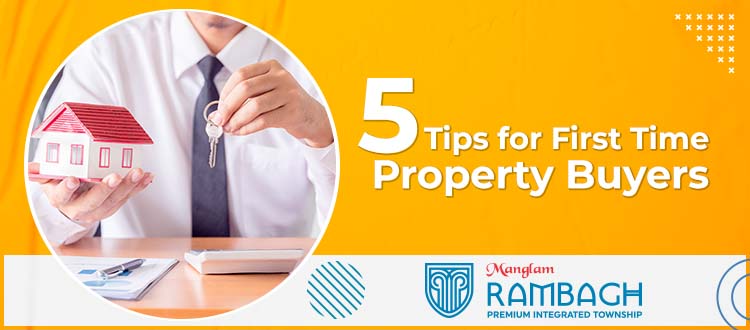 5 Tips for First Time Property Buyers
Buying a property is a big decision, especially for first-time buyers. There is an emotional quotient attached to it. Also, with so many options available, first-time buyers can easily get overwhelmed. In that case, they can make some poor judgments. Buying a property is a decision of a lifetime. So, why not make your first property purchase the best one and invest in one of the plots in Neemrana. However, for your satisfaction and the sake of best judgement, the following is a list of factors to look for before buying a property.
Your Budget
Knowing your budget is a prerequisite to property hunting. It's best to analyse all the expenses linked to property purchases like the property value, taxes, and other charges and prepare your budget accordingly. This will help you find the right property more easily and also will put you in a position to negotiate. Also, after preparing your budget it is important to stick to it.
Your Requirement
After budgeting, you are needed to make a list of all your requirements from your home. It not only does include your present requirements but also the future ones. You should have a clear idea of how much space you need, what kind of amenities you need, and also what kind of property best fits all your requirements, and then look for properties that fit all your preferences. The plots for sale in Neemrana are well-equipped with luxury amenities, providing you with an excellent location to build your dream abode.
The Location
When going property hunting, the most important factor to consider is the location of the property. The location determines how the property value is going to appreciate and how well it will serve your daily life. Before picking a property, analyze the distance of major infrastructures like schools, hospitals, supermarkets, etc. from the property. Also, consider the connectivity of your home on the plots in Neemrana.
Financing Options
If you are deciding on financing options, consider your CIBIL score. According to the CIBIL score, the bank decides whether the bank will finance your home loan or not. Also, assess your existing loans, incomes, and any mortgage rates if any. After the review of all these factors, your home will be financed.
Check For Legalities
Before making any decision, ensure that all the legalities are in place. Make sure that all the documentation is legal. First-time buyers can also seek help from legal professionals. Get the documents examined by a lawyer and check for any legal disputes on the property. The JDA approved plots for sale in Neemrana are a perfect investment decision for you.
These were a few references to assist you while buying your first property. Try to opt for reputed real-estate developers like the Manglam Group while buying your first property. Manglam Rambagh by the Manglam Group is a beautifully integrated township that offers residential and commercial plots in Neemrana. You can build your first home on plots in Neemrana according to your tastes and desires.