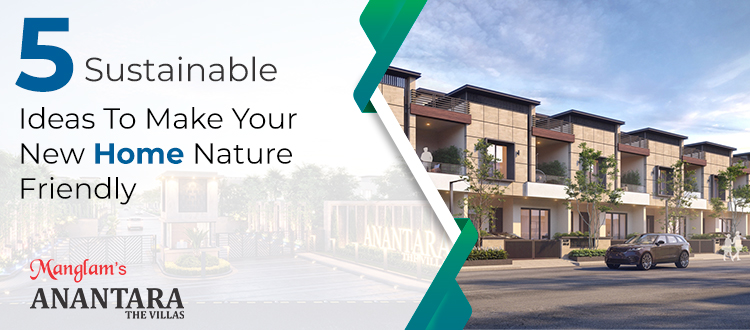 5 Sustainable Ideas To Make Your New Home Nature Friendly
Sustainability has become a popular choice through these years and most people are making sustainable choices for their living designs.
Making modifications in our lifestyle to make our living more sustainable can make major positive changes to the environment. Manglam Anantara is a beautifully integrated township on Ajmer Road that offers 4 BHK luxury villas on Ajmer Road in the heart of tranquillity and lush greens along with the freshness of nature. Managing your natural resource use along with adapting small habits and making some changes can easily turn your life towards sustainability. If you are wondering what these changes are, here we go.
Invest in Energy Efficient Light Bulbs
Using energy-efficient LED bulbs is one of the easiest and best ways to make your home more sustainable. Not only is this nature friendly, but also very light on the pockets. Moreover, LED light bulbs have a lifespan of about 50,000 hours, which is 50 times more than normal light bulbs. 
Lower Your Water Use
One of the ways you can make your lifestyle more sustainable is by cutting down your water usage. A person on average uses 80 to 100 gallons of water a day which can be significantly reduced by making small changes like turning the tap off while brushing, using slow showerheads, using energy-efficient dishwashers and washing machines, etc.
Install Solar Panels
Solar panels are a great way to add natural and clean electricity to your home. However, some people find it costly but one can pay off the installation costs in about 7 to 20 years. Solar panels greatly reduce the burden on natural resources. 
Pay Attention to Labels
Before buying any food items or snacks for your kids, don't forget to look at the label. Look for the certified organic label that ensures that the item is not made using synthetic chemicals like chemical fertilizers, pesticides, and dyes. Also, make sure that the items you consume are produced using sustainable methods. 
Upcycle Your Furniture
Furniture costs much and is hard to dispose of. In that case, it is better to invest in second-hand furniture for your villa in Jaipur or upcycle your existing furniture instead of throwing them away. 
These were some of the best ways you can add sustainability to your home. Now that you know the easiest ways to have a sustainable lifestyle, put these ideas to use and make your new villa on Ajmer Road more sustainable and nature friendly.