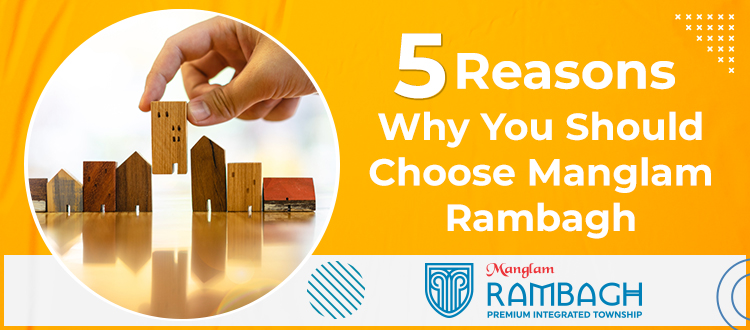 5 Reasons Why You Should Choose Manglam Rambagh
Finding the right plot in your budget for your dream home is not an easy task. With so many options available one can easily get confused. And let's be honest, with our busy schedules and high expectations, finding a plot for sale in Neemrana can be difficult. So, to ease the process for you, Manglam Group came up with a beautifully integrated township in Neemrana that offers residential and commercial plots in Neemrana for you to build the home of your dreams. If you are still not convinced how Manglam Rambagh is ideal for you, let's discuss a few reasons why you should invest in our plots in Neemrana.
Best Locations
When investing in a residential plot, one factor that holds the most influence is the location. Not only does it influence the property value but also determines the connectivity of your home. Manglam Rambagh, located on the main Delhi-Jaipur highway, serves excellent connectivity to some of the major infrastructures and establishments. 
Infrastructure
The thoughtfully planned development at Manglam Rambagh takes care of every need of the residents. The plots in Neemrana are provided with basic facilities of water, electricity, and sewage. The property also offers state-of-the-art amenities like a swimming pool, modern gymnasium, kids play area, steam sauna, games room, etc that fills the life of residents with comfort and luxury. 
Great Prices
Regardless of the reason why you want to buy a property, they can be tough on your pocket. You may want to buy a property for commercial or residential purposes, however, finding the ideal plot with the best prices is itself a task. The property for sale in Neemrana offers plots at the most reasonable prices along with high-end amenities and world-class infrastructures. 
Experience
Manglam Group is one of the leading real estate builders and developers in Jaipur with multiple years of experience. The group believes in quality-driven growth based on trust and value. So, what is better than associating with a developer that believes in quality and integrity. 
Your quest for plots in Neemrana comes to a halt at Manglam Rambagh. The beautifully integrated township offers a lavish lifestyle to the residents allowing them to enjoy nature and life to the fullest. If you are ready to experience life, invest in a property for sale in Neemrana.