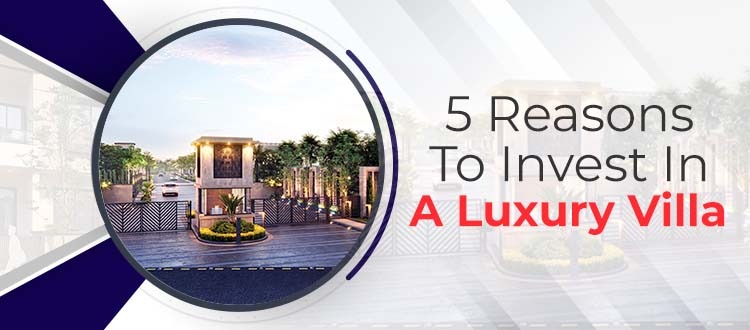 5 Reasons To Invest In A Luxury Villa
Jaipur, the rapidly expanding hub for real estate buyers is seeing a lot of possibilities in types of investments.
From plots to mansions, you can find any kind of property in the pink city Jaipur. From all over India, people are moving to Jaipur in an attempt for upgrading their lifestyle. But one of the properties that catch the eye every single time is the villas. Villas in Jaipur offer numerous benefits along with a luxurious lifestyle. If you are in search of a property in Jaipur for your future home, you might consider looking for some beautiful villas on Ajmer Road. Manglam Anantara offers 4 BHK luxury villas on Ajmer Road that are perfect for you and your family to live a life full of conveniences and comfort.
Let's look at some of the benefits of buying a villa in Jaipur.
Complete Exclusivity:
One of the key benefits of owning a beautiful villa in Jaipur is the utmost exclusivity it provides. Along with having full control over the usage of water, electricity, and other amenities, villas also serve as a type of status symbol. Villas on Ajmer Road offer prestige along with the exclusivity.
Privacy:
One of the perks of buying a villa in Jaipur is that one can enjoy a beautiful home that offers them full privacy. With no shared walls, villas offer the privacy that most people desire these days. This is one of the major reasons people are buying 4 BHK villas in Jaipur.
Luxurious Lifestyle:
One of the best parts of owning a villa is the standard of living it provides. 4 BHK villas on Ajmer Road are spacious enough to accommodate all your growing family needs The luxury villa provides you with amenities that upgrade your lifestyle bar and offer enough possibility for future constructions and renovations.
A Wise Investment:
Spacious villa projects like Manglam Anantara are perfect investment options as they offer great returns in the future. In cities like Jaipur, property prices are continuously appreciating. Manglam Anantara, located on Ajmer Road is an excellent investment decision.
Safety:
One of the main benefits of owning a 4 BHK luxury villa on Ajmer Road in gated properties like Manglam Anantara is the security and safety it provides. Manglam Anantara has all security measures at check like CCTV, 24*7 security guards, and intercom services. This is one of the main benefits of villas over independent houses.
These were some of the benefits of owning a luxury villa in Jaipur in a luxury property like Manglam Anantara. Villas on Ajmer Road are currently high in demand because of the appreciating values. The beautiful 4 BHK villas in Jaipur offer high-end amenities and conveniences that make them worth investing in.