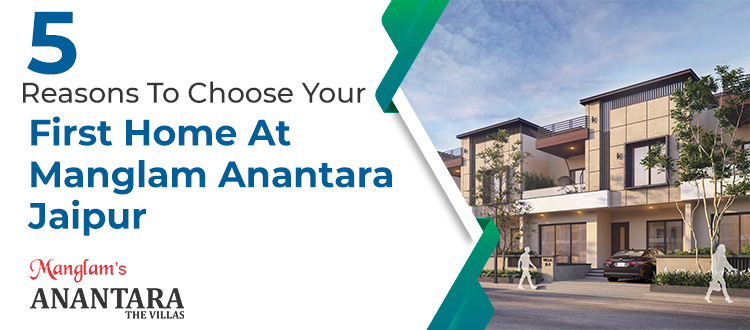 5 Reasons To Choose Your First Home At Manglam Anantara Jaipur
A perfect home is an intoxicating blend of spacious rooms, beautiful and comfortable living rooms, luxury amenities, a safe environment, and lush greenery.
When you visualize your dream home, we are sure you think of all of those qualities mentioned above. When people aspire to homes in beautiful surroundings with high-end features, one name they can blindly trust is the Manglam Group. Equipped with all of these features, Manglam Group came up with Manglam Anantara, located on Ajmer Road, which is the epitome of luxury and convenience. The 4 BHK luxury villas on Ajmer Road offer a lifestyle of which most of us have always dreamt of. 
Here are Five Reasons to Choose Your First Home at Manglam Anantara.
Ajmer Road's Connectivity is Pure Bliss
The location of the project plays a very crucial role. Picking a villa in Jaipur strategically located near major infrastructures will provide a life of convenience and well-being. The 4 BHK villas in Jaipur are located near major hospitals, schools, and other government and private infrastructures that ensure that you have a life with supreme connectivity. 
Anantara's Proximity to major Infrastructures is Immaculate
The villas on Ajmer Road are surrounded by plenty of greenery and recreational activities to indulge in. Manglam Anantara is an excellent place to raise children. With proximity to big schools and multispeciality hospitals, the neighbourhood of Manglam Anantara is truly a bonus. 
Invest and Prosper at Anantara
Manglam Anantara is beautifully designed and constructed to exude a lavish lifestyle for the residents. Ajmer Road has seen tremendous growth concerning real estate. Buying 4 BHK villas on Ajmer Road will offer promising returns in the future. 
Enjoy Extravagant Amenities at Manglam Anantara
The beautiful villa in Jaipur is equipped with high-end amenities that cater to both from old residents to young kids. The amenities easily add extravagance to the life of residents and make their time worthwhile while enjoying them. The amenities add value to the property and enhance the attractiveness to the great extent. 
The Epitome of Trust-Manglam Group
Since 1995, Manglam Group has established itself as one of the best real-estate companies in Rajasthan. The group has developed numerous projects and has offered great living experiences to thousands of home buyers. Their work has brought a parable shift in the real estate industry. They have established themselves as a name of trust and resilience. 
Manglam Anantara is a great example of how form and function can be combined seamlessly. The 4 BHK luxury villas on Ajmer Road are a result of well-thought planning, indistinctive ideas, and well-developed establishments prioritizing values and harmony. They are designed to nourish your everyday existence and fill your life with harmony and happiness.