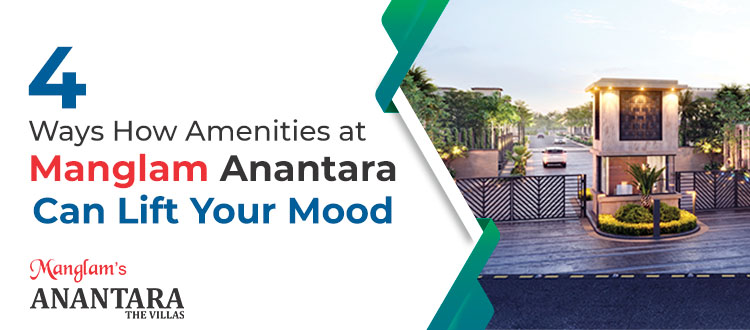 4 Ways How Amenities at Manglam Anantara Can Lift Your Mood
In your hectic schedule, you barely get time to relax. The environment you live in greatly influences your mood. Manglam Anantara understands this and provides you with top-notch amenities that significantly add opulence to your lifestyle and enables you to relax and unwind from your overwhelming day at work. The 4 BHK luxury villas on Ajmer Road are designed and constructed keeping the need of contemporary families in mind and offering a state-of-the-art infrastructure with amenities like modern clubhouses, a swimming pool, a kids' play area, and many other high-end amenities. But are all these luxury amenities really useful? Yes, they are, let's find out how.
Leisure Amenities
After your long day of work, it is common to feel exhausted. A nice swim in a pool or a badminton match with your little ones can greatly help you de-stress and unwind. Manglam Anantara offers amenities like a swimming pool, luxury clubhouse, and an indoor sports area where you can spend some quality time with your loved ones at leisure after an exhausting day at work. This assists to maintain a balance between your professional and personal life and gives you a chance to take a respite.
Boost Your Fitness
It can be hard for you to take some time out of your busy schedule to go to a faraway gym to take in some good workouts. In that case, having a fitness facility right in your society can help you a lot to stay fit. You can pick your time to exercise according to your schedule. The 4 BHK luxury villas in Jaipur are equipped with fitness amenities like a gymnasium that facilitates you to make positive changes to your lifestyle.
Community Living
It is always better to live among good people than living alone, isolated from a community. Manglam Anantara is a society where you can enjoy community living to its max. You can make long-term valuable friendships and even enjoy some leisure time with them. You can participate in various events and live comfortably among like-minded people, living a balanced life.
Kids Wellbeing
As we all know, exercise is as important to children as their education is. The kid's play area and indoor sports facility at Manglam Anantara are perfect places for your children to indulge and take in some physical and mental exercise. The villas in Jaipur are surrounded by lush greens that allow your child to develop while interacting with nature.
Manglam Anantara is developed with a sense to provide its residents with all the facilities they need to live comfortably and in luxury. Thevillas in Jaipur are perfect to call your next home. The beautifully integrated villas on Ajmer Road are well-equipped with major contemporary amenities that will fill your life with opulence.