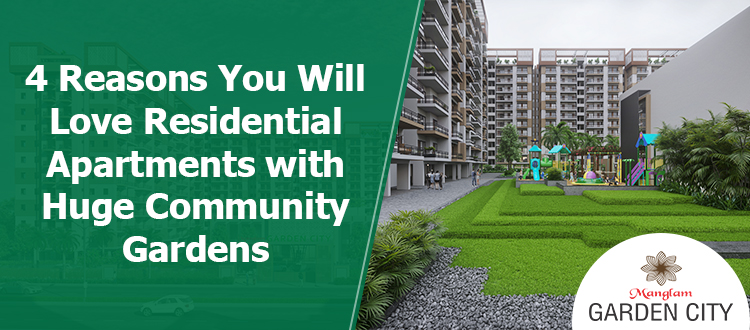 4 Reasons You Will Love Residential Apartments with Huge Community Gardens
Over time, residential projects have gained momentum. People have evolved and also have their preferences in housing. However, one factor that stands still is the love for nature in and around the house. We have always known that nature casts a positive impact on the physical and mental health of the residents.
The eco-friendly green surrounding is crucial for residents as they foster better-living conditions while aiding their overall health. Keeping this in mind, Manglam Group came up with a residential project, namely Manglam Garden City that offers 3 BHK flats in Jaipur surrounded by lush greenery on all sides.
Multiple benefits come bundled up with 3 BHK in Jaipur in a gated community with lavish greens. Let's discuss a few of them:
More Time With Family
Nowadays, everyone is so engulfed in their smartphones that they hardly spend time with their family. To subside this, Manglam Garden City offers beautifully developed lush green gardens that allow residents to enjoy some time outdoors with their family and friends, sitting and chatting while admiring nature.
Perfect Spot for Fun and Healthy Routines
The 3 BHK apartment in Mansarovar Jaipur allows residents to indulge in nature while providing them a space to exercise. The lavish green landscaped gardens are the perfect spot for the elderly, children as well as housewives to carry on their daily exercise routines.
Socializing
Human interaction is a big part of human socialization. With the development of technology, socializing is mostly confined to social networking sites. Thus, to foster real-world socializing, gardens and parks can be great places. They not only allow residents to indulge in conversations but also let them applaud nature.
Fresh, Oxygen-Filled Environment
The gardens at Manglam Garden City are immaculately beautiful with different kinds of trees and flowering plants, they are perfect in every sense. They render quality air and freshness to the environment. They are perfect for post-dinner strolls and watching your child play.
So, if you are planning to buy one of the 3 BHK flats in Jaipur Mansarovar Patrakar Colony, you have the answer right here. Manglam Garden City fosters a high standard of luxury living for residents while filling their lives with a renewed form of freshness and sumptuousness.